BEST BURGUNDY WINES
The Burgundy region is home to some most expensive wines in the world, including those of Domaine Armand Rousseau, Henri Jayer, Domaine de la Romanée-Conti, Domaine Leroy, and Domaine Leflaive. These are essentially some of the best Burgundy wines.
Burgundy is the name of a wine region in France. Burgundy wine is a wine made in the Burgundy region in eastern France. This area encompasses the valleys and slopes west of the Saône, a tributary of the Rhône. The most famous wines produced here—those commonly referred to as "Burgundies"—are dry red wines made from pinot noir grapes and white wines made from chardonnay grapes. These wines are considered to be the best money can buy, and they are the most expensive in the world.
Burgundy Classification
There are 100 Appellations in Burgundy and these are classified into four quality categories. These are Bourgogne, village, premier cru and grand cru. Eighty-five miles southeast of Chablis is the Côte d'Or, where Burgundy's most famous and most expensive wines originate, and where all Grand Cru vineyards of Burgundy are situated. The wine-growing part of this area in the heart of Burgundy is just 40 kilometers (25 mi) long, and in most places less than 2 kilometers (1.2 mi) wide. The area is made up of tiny villages surrounded by a combination of flat and sloped vineyards on the eastern side of a hilly region, providing some rain and weather shelter from the prevailing westerly winds. The best wines – from grand cru vineyards – of this region are usually grown from the middle and higher part of the slopes, where the vineyards have the most exposure to sunshine and the best drainage, while the premier cru comes from a little less favorably exposed slopes. The relatively ordinary "village" wines are produced from the flat territory nearer the villages. This is explained by the presence of different soils, which favor pinot noir and chardonnay, respectively.
Over the centuries, Burgundy has become known for being the best land in the world for producing both Pinot Noir and Chardonnay, and it is for this reason that Burgundy wines have received such acclaim. In fact, the quality of the land is considered to be so important to the creation of red and white Burgundy, that inside the Burgundy region, vineyards are classified by four levels, depending on how exceptional it is believed one's plot of land is for growing the grapes. When buying a bottle of Burgundy, one of these four classifications will be labeled on the bottle:
Grand Cru – This classification is reserved for the best vineyards. Only about 2 percent of all vineyards in Burgundy receive this classification. Wines with this classification receive the highest prices and are highly pursued by wine collectors throughout the world.
Premier Cru – These wines are produced from vineyards that are still considered to be of stellar quality, but just a small step down from Grand Cru. These vineyards makeup about 12 percent of all vineyards in Burgundy and can also produce wines that are quite expensive.
Village Wines – These are Burgundies that are produced from grapes sourced from several vineyards in 1 of the 42 villages of Burgundy. You will know it's a Village wine because the name of the village where the grapes were sourced will be labeled on the bottle. These wines represent 36 percent of all Burgundy. Vineyards that produce Village wines may be right next to vineyards classified as Premier or Grand Cru, but for some reason, they do not receive the same classification. Due to this, you can find excellent bargains among Village wines.
Regional – Finally, Regional wines are considered to be the lowest level of classification. These are wines that are created from a combination of vineyards from a variety of villages within Burgundy, as opposed to a single village, like Village wines. As such, wines of this classification will simply be labeled as a wine of Bourgogne. These wines represent 50 percent of all wines produced in Burgundy and in this classification you will find excellent wines at more reasonable pricing. These wines are ready to be drunk now with your favorite meal.
Regional appellation wines are wines which are allowed to be produced over the entire region, or over an area significantly larger than that of an individual village. At the village, Premier Cru and Grand Cru levels, only red and white wines are found, but some regional appellations also allow the production of rosé and sparkling wines, as well as wines dominated by grape varieties other than Pinot noir or Chardonnay. These appellations can be divided into three groups:
An AOC Bourgogne Pinot noir.
AOC Bourgogne, the standard or "generic" appellation for red or white wines made anywhere throughout the region, and represent simpler wines which are still similar to the village. These wines are typically intended for immediate consumption, within three years after the vintage date.
Subregional (sous-régional) appellations cover a part of Burgundy larger than a village. Typically, those communes which do not have a village appellation will have access to at least one sub-regional appellation. This level is sometimes described as intermediate between AOC Bourgogne and the village level.
Wines of specific styles or other grape varieties include white Bourgogne Aligoté (which is primarily made with the Aligoté grape), red Bourgogne Passe-Tout-Grains (which can contain up to two-thirds Gamay) and sparkling Crémant de Bourgogne.
Burgundy? What is Special about these Fine Wines
Burgundy has an allure unlike any other wine region in the world, and much of that allure has to do with the environment. The stereotypical picture most people have of a wine region is of a place where small producers tirelessly work the vines, and then, at harvest, head to the cellar to create incredible wine. And while most regions have producers who do this, they also have large-scale wineries with machine harvesting and mechanized production methods.
Not so in Burgundy. This is in large part due to the region's size. The vineyards most wineries own in Burgundy are small and production size is low; in turn, the quality is high. On top of this, the grape used to make the region's famous red, Pinot Noir, is incredibly fickle. It's considered the hardest grape in the world to cultivate well. All this adds a certain mystique to the wines, plus it ensures the wine is pretty scarce.
The History of Burgundy
Archaeological evidence establishes viticulture in Burgundy as early as the second century AD, although the Celts may have been growing vines in the region previous to the Roman conquest of Gaul in 51 BC. Greek traders in about 600 BC, had traded extensively up the Rhône valley, where the Romans first arrived in the second century BC.
Monks and monasteries of the Roman Catholic Church have had an important influence on the history of Burgundy wine starting during Charlemagne's era. The Benedictines, through their Abbey of Cluny founded in 910, became the first truly big Burgundy vineyard owner over the following centuries. Another order which exerted influence was the Cistercians, founded in 1098 and named after Cîteaux, their first monastery, situated in Burgundy. The Cistercians created Burgundy's largest wall-surrounded vineyard, the Clos de Vougeot, in 1336. More importantly, the Cistercians, extensive vineyard owners as they were, were the first to notice that different vineyard plots gave consistently different wines. They, therefore, laid the earliest foundation for the naming of Burgundy crus and the region's terroir thinking.
The status of Burgundy wines continued in the court of the House of Valois, which ruled as Dukes of Burgundy for much of the 14th and 15th centuries. Their ban on the import and export of non-Burgundian wines, effectively shutting out the then-popular wines of the Rhone Valley from north European markets, gave a considerable boost to the Burgundy wine industry. It was during this era that the first reliable references to grape varieties in Burgundy were made. Pinot noir was first mentioned in 1370 under the name Noirien, but it was believed to have been cultivated earlier than that since no other grape variety associated with Medieval Burgundy is believed to have been able to produce red wines of quality able to impress the papal court. High-quality white Burgundy wines of this era were probably made from Fromenteau, which is known as a quality grape in northeastern France at this time. Fromenteau is probably the same variety as today's Pinot Gris. Chardonnay is a much later addition to Burgundy's vineyards.
In the 18th century, the quality of roads in France became progressively better, which facilitated commerce in Burgundy wines. The first négociant (wine or wine product merchants) houses of the region were established in the 1720s and 1730s. In the 18th century, Burgundy and Champagne were rivals for the lucrative Paris market, to which Champagne had earlier access. The two regions overlapped much in wine styles in this era, since Champagne was then primarily a producer of pale red still wines rather than of sparkling wines.
After Burgundy became incorporated in the Kingdom of France, and the power of the church decreased, many vineyards which had been in the church's hands were sold to the bourgeoisie from the 17th century. After the French revolution of 1789, the church's remaining vineyards were broken up and from 1791 sold off.[1] The Napoleonic inheritance laws then resulted in the continued subdivision of the most precious vineyard holdings, so some growers hold only a row or two of vines. This led to the emergence of négociants who aggregate the produce of many growers to produce a single wine. It has also led to a profusion of increasingly smaller, family-owned wineries.
Burgundy Wine: The Finest Wine
Burgundy wine has experienced much change over the past 75 years from the depression during the 1930s through the devastation caused by World War II. After the War, the vineyard owners returned home to their unkempt vineyards. The growers began to fertilize their neglected vineyards and brought them back to health. Those who could afford it added potassium, a mineral fertilizer that contributes to vigorous growth. By the mid-1950s, the soils were balanced, yields were reasonably low and the vineyards produced some most stunning wines in the 20th century.
For the next 30 years, they followed the advice of renowned viticultural experts, who advised them to keep spraying their vineyards with chemical fertilizers, including potassium. While a certain amount of potassium is natural in the soil and beneficial for healthy growth, too much is harmful because it leads to low acidity levels, which adversely affect the quality of the wine.
As the concentration of chemicals in the soil increased, so did the yields. In the past 30 years, yields have risen by two-thirds in the participating appellation vineyards. The period between 1985 and 1995 was a turning point in Burgundy. During this time, many Burgundian domaines renewed efforts in the vineyards and gradually set a new course in winemaking, producing deeper, more complex wines. Today, the Burgundy wine industry is reaping the rewards of those efforts with the finest and most expensive wines in the world.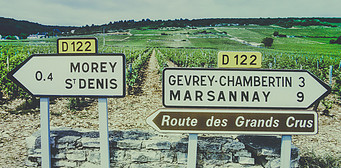 Red Burgundy and Food Pairing
Red Burgundy is thought of as a companion for simple French meals or even picnics.
Mild cheeses such as goats cheese and creamy but not too mature brie
Seared tuna especially with an Asian accent such as a sesame crust
Chicken or rabbit with a creamy mustard sauce
Simply cooked rare meat rather than heavily charred or sauced.
Rack of lamb with a herb crust
Seared duck breast particularly accented with red fruits like cherries or blackberries
Mushrooms – as with white burgundy mushroom risotto works particularly well but a mushroom sauce will frequently kick a pairing into touch. Mushroom stroganoff is an excellent choice.
Beetroot Good with riper fruitier styles from warm vintages.
Peas – weirdly but they almost always enhance a pinot match
Light rich broths such as you find in sukiyaki
Weightier Red Burgundies
Meats of all kinds – even richly sauced dishes like boeuf bourguignon and coq au vin
Feathered game – roast grouse, pheasant, partridge as well as high quality farmed meats such as guinea fowl and goose
Lean red meat such as venison, fillet steak, and lamb
Simply roasted white meats Rare breed roast pork, roast veal or a good roast chicken
Dishes with a sauce based on red burgundy
Dishes with black truffles and porcini
White Burgundy
Anything butter
Fish cooked in butter, a buttery roast chicken, buttery sauces like hollandaise or béarnaise, potted shrimps
The richer the dish the fuller-bodied wine it can take.
Creamy and even slightly cheesy sauces
Chicken pot pie, chicken with a creamy mushroom sauce or fish pie
Simply cooked fish – Most fish pairs well with white burgundy but salmon or salmon fishcakes
Seared scallops- Great when you have a classy white burgundy.
Crab- Delicate white crab meat is fantastic with a young unoaked or subtly oaked white burgundy. Brown crab meat particularly served baked with cheese is better with a richer or more mature one
Mushrooms- Think button or wild mushrooms such as chanterelles rather than dark, richly flavored porcini or portobello ones which tend to be better with a red burgundy. White burgundy is great matched with a mushroom risotto or even mushrooms on toast.
Cauliflower purée or soup- Cooked cauliflower with a degree of caramelisation really shows off a good white burgundy. So it's perfect for a dish that includes cauliflower purée, a cauliflower soup, or on-trend cauliflower steaks.
Chalky cheeses- White burgundy can be a great pairing with cheese, like Caerphilly and Chaource, provided it's not too strong.
Please sign up for our email list below to get the latest information on our latest product descriptions, upcoming sales and special offers. We have some of the best offers in the business so please keep updated and have all questions answered in our COMMONWEALTH NEWS
Please select a fine Burgundy from our list below or go to our Main Site to review the world's Best Burgundy wine. Please make a selection for dinner.
Marchand-Tawse Vosne Romanee 1er Cru 'Les Petits Monts' 2016

Hospices de Beaune Volnay-Santenots 1er Cru Cuvee Jehan de Massol 2017
Marchand-Tawse Clos de la Roche Grand Cru 2016
Domaine Marchand Freres Griottes-Chambertin Grand Cru 2016
Richard Rottiers Beaujolais Villages 2018
Jean Dauvissat Pere et Fils Chablis 1er Cru 'Montmains' 2016
Château de Vergisson Saint Veran 'La Cote Rôtie' 2016
Domaine Borgeot Santenay 1er Cru 'Gravieres' 2017
Marchand-Tawse Chambolle Musigny 2016
Julien Cruchandeau Hautes Cotes de Nuits 'Les Cabottes' 2018