SWEET
DESSERT
WINES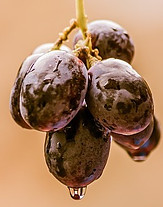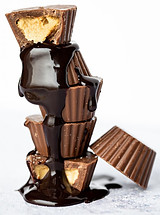 Sweet dessert wines are sometimes overlooked in regard to the other mainstream selections. However, there is nothing like an intensely
flavored chocolate mousse or a very rich plate of chocolate cookies with an excellent sweet dessert wine or a lighter fruit-based dessert with a lightly sweet wine. Dessert wines come in a variety of styles and run the gamut from light and dry to dark, full-bodied or alcohol fortified for an additional sweet flavor. The sweet dessert would need to be sweeter than the dessert to achieve a balance in flavors and not to neutralize the flavor of the wine. These great dessert wines will pair well with many of your favorite desserts and may be sufficient to be the dessert in itself. Following the basic rules of wine to food pairing, lighter wines pair with lighter foods and more substantial wine will pair well with very rick flavored desserts.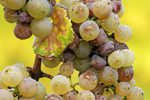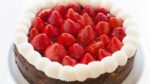 The desired sweetness is a product of harvesting grapes late in the harvest season. At this point in the season, the grapes are drying and losing water but retaining their concentration sugars. Also, a very expensive cherished dessert wine, Bordeaux Sauternes is produced by a sugar concentrating fungus, Botrytis cinerea. This process is known as Noble Rot. Noble rot or botrytized, wines are a type of late-harvest wine. The healthy grapes are actually attacked by a fungus called Botrytis cinerea, which punctures grape skins to dehydrate them and concentrate flavors, sugar and acidity. Botrytis can often add its own unique flavors as well, such as honey, orange essence and ginger.
ICE WINE
Ice wine or (German) Eiswein is a type of sweet dessert wine produced from grapes that have been frozen while still on the vine. The sugars and other dissolved solids do not freeze, but the water does, allowing for a more concentrated grape juice to develop. The grapes must is pressed from the frozen grapes, resulting in a smaller amount of more concentrated, very sweet wine. With ice wines, the freezing happens before the fermentation, not afterward. Unlike the grapes from which other dessert wines are made, such as ice wine grapes should not be affected by Botrytis cinerea or noble rot, at least not to any great degree. Only healthy grapes keep in good shape until the opportunity arises for an ice wine harvest, which in extreme cases can occur after the New Year, on a northern hemisphere calendar. This gives ice wine its characteristic refreshing sweetness balanced by high acidity. When the grapes are free of Botrytis, they are said to come in "clean". Ice wine production is complicated
and very dependent on perfect timing as the freeze may not come before the grapes rot. Harvesting also requires the availability of a
large labor force to pick the whole crop within a few hours, at a moment's notice, and usually at night. This results in relatively small amounts of ice wine being made worldwide, making ice wines generally expensive.
Ice wines are very concentrated and sweet. The range of flavor can be varied as the Ice Wine can be made from many varieties of grapes such as Riesling to Cabernet Franc, Merlot or Muscatine grapes. Ice wines are predominately produced in Canada and secondarily in cold regions of Germany and Oregon. Ice wine is well suited for chocolate desserts and is accentuated with truffle, or caramel toppings, or fruit and fruit
compotes. These ice wines are a great experiences and a great dessert wine experience. Please let me known if you have questions on these delectable wines.

Tokaji Wines
Originating as far back as the 1530s, Hungary and Slovakia are the only countries permitted by law to use the Tokaj or Tokaji name under the brand as it is a designated controlled appellation. Only six grape varietals are permitted under the Tokaj regulation to be used in the fermentation process that includes Furmint, Hárslevelı, Yellow Muscat, Zéta (Oremus), KövérszŒlŒ and Kabar.

The Tokaj process of making wine includes a harvest under conditions of noble rot (botrytis), which following a long summer preceded by a brutally cold winter, allows for a raising of the grapes resulting in a super sugar concentration. Baskets of Aszu grapes are stomped into a paste-like consistency called Aszu dough (puttonyos) that is then blended with wine must for up to 48 hours. Following the blending process, the wine is placed in wooded vats and racked. A slow fermentation process results in which can take up to several years. A Tokaji is classified by the number of Puttonyos added to the casks and can range from 3 to 6 Puttonyos with six being the sweetest and most prestigious. Tokaj has a sweet, honey,
caramelized flavors that are excellent served with creamy cheeses, foie gras, fruit desserts or rich cakes. Essencia, which is nectar that bleeds off the racks from the Aszu can also be bottled. As it has such a high concentration and a much smaller fraction of production, it is often consumed in smaller glasses and is quite expensive (around $500 a bottle) due to its cellaring capacity to last over 200 years in bottle. Tokaji Essencia can be consumed with fruit, cheese, or decadent cake, however, its scarcity and exclusivity really make it a standalone wine.
……..
Tokaji (Hungarian or Tokay is the name of the wines from the Tokaj wine region in Hungary or the adjoining Tokaj wine region in Slovakia. This region has a long reputation for its sweet dessert wines made from grapes that have been subjected to noble rot. The Slovak wine region of Tokaj may use the Tokaj" in Slovak if they apply the Hungarian quality control regulation. This area used to be part of the greater Tokaj-Hegyalja region within the Kingdom of Hungary but was divided between Hungary and Czechoslovakia after the Treaty of Trianon. There are many wine cellars involved in production in the region of Tokaj. 185 cellars were counted in the town of Tokaj.
Six grape varieties are officially approved for Tokaji wine production:
Furmint
Hárslevelű
Yellow Muscat (Hungarian: Sárgamuskotály)
Zéta (previously called Oremus – a cross of Furmint and Bouvier grapes)
Kövérszőlő
Kabar (a cross of Hárslevelű and Bouvier grapes)
Furmint is the predominant and most important grape and accounts for 60% of the area and is by far the most important grape in the production of these wines. Hárslevelű stands for a further 30%. Nevertheless, many other different types and styles of wines are produced in this region, ranging from dry whites to the world's sweetest wine. The area where Tokaji wine is traditionally grown on a small plateau area, (1,500 ft) above sea level, near the Carpathian Mountains. The soil is of volcanic origin and the region has a unique climate, beneficial to this particular viniculture. The winters are cold with spring tending to be cool and dry with dry and hot summers. Autumns are long with early rains followed by an extended Indian summer to allow for an extended long ripening period.
The Furmint grapes begin maturation with thick skins but ripen with thinner and transparent skins. This allows the sun to penetrate the grape and evaporate much of the liquid inside, producing a higher concentration of sugar. Other types of grapes mature to the point of bursting, however, unlike most other grapes, Furmint will grow a second skin which seals it from rot. This also has the effect of concentrating the grape's natural sugars. The grapes are left on the vine long enough to develop the "noble rot". Grapes then are harvested, sometimes as late as December
(and in the case of true Eszencia, occasionally into January).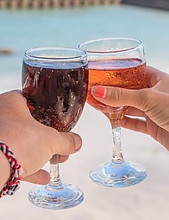 Types of Tokaji wine
The first village level dry Furmint in the Tokaji wine region
Dry Wines of Tokaji Furmint The fine quality dry Tokaji Furmint is a newer development in the Hungarian/Slovakian wine-producing area.
For centuries the main product of the area was the sweet dessert wine, mainly the Botrytised selections. This dry Furmint has gotten the attention of many wine connoisseurs and experts of the world and was considered to be a fine white dry wine of exceptional favor and structure.
Tokaj Wines of the Hungarian Solvakian regions are now named after their respective grape varieties: Tokaji Furmint, Tokaji Hárslevelű, Tokaji Sárgamuskotály and Tokaji Kövérszőlő.
Szamorodni:
This type of wine was initially known from the 1820s Polish merchants popularized the name samorodny, The distinguishing characteristic of Szamorodni apart is that it is made from bunches of grapes which contain a high proportion of botrytized grapes and is typically higher in alcohol than ordinary wine. Szamorodni often contains up to 100-120 g of residual sugar and thus is termed sweet. A bottle of Tokaji Aszú 4 Puttonyos, vintage 1990, in a 500 ml bottle of the style that is typical for Tokaji wine. The capsule label with the colors of the Hungarian flag is also characteristic.
Aszú:
This is the world-famous sweet dessert, topaz-colored wine known throughout the English-speaking world as Tokay. Unlike most other wines, the alcohol content of aszú typically runs higher than 14%. The original meaning of the Hungarian word aszú came to be associated with the type of wine made with botrytized grapes.
Eszencia:
This beverage is called nectar, this is often described as one of the most exclusive wines in the world, although technically it cannot even be called a wine because its enormous concentration of sugar means that its alcohol level never rises above 5-6 percent. Eszencia is the juice of aszú berries
which is collected from the vats in which they are collected during harvesting. Unlike virtually all other wines, Eszencia maintains its quality and drinkability when stored for 200 years or more.
Fordítás:
A reductive sweet Hungarian wine containing residual sugars at least 50 to 180 g/l/ These are ready for release about 2 years after harvest. These are marketed as Tokaj wine that is not completely under the appellation laws but considered high quality and high priced.
Máslás: This is derived from the word "copy" in Hungarian and is another sweet dessert wine. This often contains residual sugars of at least 50 to 280 g/l. These are marketed as Tokaj wine that is not completely under the appellation laws but considered high quality and high priced.
PORT

Port wine is produced from grapes grown and processed in the demarcated Douro region, the river valley of the Douro River
in northern Portugal. Over a hundred varieties of grapes are sanctioned for port production, although only five Tinta Barroca, Tinto Cão, Tinta Roriz (Tempranillo), Touriga Francesa, and Touriga Nacional are primarily cultivated and used. The wine produced is then fortified by the
addition of a neutral grape spirit known as aguardente to stop the fermentation, leaving residual sugar in the wine, and to boost the alcohol content. The wine is then stored and aged in barrels stored in the cellar facility before being bottled. The wine received its name, "port", in the latter half of the 17th century from the seaport city of Porto at the mouth of the Douro River, where much of the product was brought to market or for export. The taste profile of ports includes nuttiness (hazelnuts), leather, jerky, bacon, and currant.
Wine Regions
The demarcation of the Douro River Valley includes a broad swath of land beginning around the village of Barqueiros 43 mi upstream from Porto, the valley extends east to near the Spanish border. The region is protected from the Atlantic Ocean by the Serra do Marão mountains. The area is sub-divided into three official zones: the Baixo (lower) Corgo, the Cima (higher) Corgo and the Douro Superior.
Baixo Corgo: The western zone located downstream from the Corgo river, within the municipality of Peso da Régua. This region is the wettest port production region. receiving an annual average of 35 in/yr , and has the coolest average temperature of the three zones. The grapes grown here are used mainly for the production of inexpensive ruby and tawny ports.
Cima Corgo: Located upstream from the Baixo Corgo, this region is centered on the town of Pinhão of the municipality of Alijó. The region's annual rainfall is significantly less at 4 in/yr. The summertime average temperature of the region is a few degrees higher producing grapes of a higher quality. The grapes grown in this zone are considered of higher quality, being used in bottlings of Vintage, Reserve, aged Tawny and
Late Bottled Vintage Ports.
Douro Superior: The eastern zone extends almost to the Spanish border. This is the least cultivated region of DouroThis is the most arid and warmest region of the Douro. The overall terrain is relatively flat, with the potential for mechanization.



Offley Ruby Port    Sanderman 20yr Tawny     Taylor Fladgate LBV Port
PORT: BARREL AGED or BOTTLE AGED
Port wine is divided into two groups: barrel-aged and bottle aged port. Both of these make a great sweet dessert wine.
Barrel-Aged Port
Barrel-Aged Port is designed to be aged and consumed in the long term, and include:
Tawny Port:
Produced from red grapes and incubated to wooden casks to allow for partial oxygenation to produce a darker, richer color. This is normally consumed as a dessert wine. Tawny ports are designated by year or by non-year. Designation such as 20 year Tawny indicates the blends are from wines that have been in barrel at least 20 years.
Colheita Port:
A tawny port that is produced from a single vintage, and must be in the barrel at least 20+ years. Red Colheitas are more traditional, however, White Colheita ports have also been created as a successful product.
Garrafeira Port:
A single vintage harvest is produced and barrel-aged, upon which the port is transferred to a glass bottle for continued aging. This technique is a less common occurrence.
Bottle Aged Port
Bottle Aged Port is designed to be a short term consumable.
Ruby Port:
The least expensive port, produced by blending in large steel or concrete tanks to protect its rich color. Ruby ports do not improve with aging are extensively used for cooking or immediate consumption.
Reserve Port:

A blend of various vintages of lesser desirable ports.
Rose Port:
A newer experiment in port production where there is a limited exposure to the grape skins thus producing a product in a style similar to rose wines. This has had limited success in the marketplace.
White Port:
Produced from white grapes, the product is usually fermented for longer periods of time, and typically served chilled or blended with cocktails. With increased bottle aging it will acquire a darker color.
LBV or Late Bottle Vintage
Port:
A single vintage port that is produced as an alternative to barrel aging products. Unlike vintage port, it is filtered and meant for immediate consumption without the requirement of extensive aging.
Crusted Port:
A blend of several higher quality, unfiltered vintage ports. This port is required to be bottle-aged for at least three years before release.
Vintage Port:
This port accounts for 2% of total production. This vintage port is produced from a declared vintage, and barrel-aged for a minimum of
two and a half years before bottling with an additional 10-50 years in bottle before its ready to consume. This is the most prestigious Port and also the smallest production. The decision to declare a vintage port is not done every year in an effort to maintain the highest standard.
SHERRY


Balvenie 15 Yr Single Barrel Sherry Cask    Harveys Bristol Cream Sherry      Osborne Manzanilla Sherry
Sherry,
fortified wine of Spanish origin that typically has a distinctive nutty flavor. It takes its name from the province of Jerez de la Frontera in Andalusia, Spain. Sherry is the Anglicization of Jerez and the Spanish producers have reserved the name sherry exclusively for the fortified wines of Spain. Spanish sherry is produced in the region centered on the southwestern coast encompassing the towns of Sanlucar de Barrameda, El Puertode Santa Maria and Jerez de la Frontera. The native grapes are Palomino and Pedro Ximenez particularly and a unique vinification process. The process is completed with the action of flor, mildew like yeasts after fermentation, which imparts the characteristic nutty flavor.
The process of blending wines involves what is known as the solera system, which mixes wines of several vintages. This method matures
the younger wines, freshens the older wines, and helps maintain the consistency, or historical continuity, of a type. The date on a sherry bottle or label refers to the year the solera for that sherry was begun. All sherry is fortified after fermentation with high-proof brandy, to about 16–18 percent alcohol. The main styles of sherries, listed from driest and palest to sweetest and darkest are fino, manzanilla, amontillado, oloroso, cream, and Pedro Ximénez. The paler, usually drier, sherries are made chiefly from Palomino grapes, and the sweeter, richer sherries from Pedro Ximénez and sometimes muscat grapes.
FINO
This sherry is made from the Palomino grape and barrel-aged, usually 7-10 years. entirely under a layer of flor or yeast cap, This cap of yeast
prevents contact with the air, resulting in a yeasty, saline profile with notes of Mediterranean herbs and a variety of nuts
Pairing
Fino is a perfect accompaniment for many foods. Served chilled, between 4°C and 9°C, it goes well with fried fish, seafood, olives, almonds, and light cheese.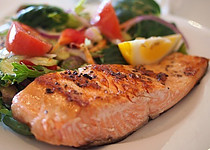 MANZANILLA
Manzanilla is basically the same as Fino sherry but produced around Sanlúcar de Barrameda, closer to the sea than Jerez, and by definition it is the only place where it is allowed to be made. The renowned Manzanillas include La Gitana (Hidalgo), La Guita (Hijos de Rainera Perez Marin) and Solear (Barbadillo).  It is essentially made the same way as Fino from the Palomino grape and biologically aged, entirely under a layer of flor yeast. However, the location provide different climatic conditions of this town are responsible for higher humidity and cooler, more constant temperatures which contributes to a higher yield of the yeast or flor. The thicker layer of yeast or flor protects the wine even more from air contact, resulting in a slightly lighter variety of Fino. It is typically released at a younger age than Fino, but the best Manzanilla examples are still between three to seven years of age.
Types of Manzanilla
The yeast or flor in Manzanilla barrels will usually live for about 6 to 8 years. Depending on the stage of the flor, there are different classifications of Manzanilla:
Manzanilla (sometimes Manzanilla Fina to differentiate from the Manzanilla Pasada) is the traditional Manzanilla sherry, typically bottled around 3 to 5 years. Maturation of at least 2 years is prescribed by law.
Manzanilla Pasada is a richer, older Manzanilla in which the yeast or flor starts to go away at 6 to 7 years. Today Manzanilla Pasada is
bottled as a younger wine due to it's consumer popularity for a lighter style.
Manzanilla Pairing
Manzanilla It is best served chilled at a temperature of between 4°C and 9°C. It is a perfect accompaniment to a wide variety of foods. It goes
particularly well with many olives, fish dishes, seafood, and olives. Manzanilla is also an excellent combo with sushi and it makes a great, refreshing spritzer or cocktail.
Palo Cortado
Palo Cortado is an intermediate type of sherry and is very popular at this day and age. This sherry should have the aromatic refinement of Amontillado combined with the structure and body of an Oloroso. Originally, a Palo Cortado would originate as a Fino that did not process properly as unplanned yeast activity, specific characteristics of the grape juice, a slightly off-beat cask or certain ambient conditions that influenced the flor and caused it to fail to develop normally. Under these conditions, it's yeast or flor would be killed by fortifying the wine to 17-18 degrees and it would continue its life as a barrel that ages oxidatively thus being Palo Cortado.
Though the Palo Cortado is naturally dry, with relatively high strength and full body and will give it an impression of roundness and even sweetness. The best of these sherrys's are lightly sweetened and then left to mature further or cutting off the fermentation process before it is complete hence leaving additional residual sugars for an elegant sweetness.
Palo Cortado Pairing
The classic pairing for a Palo Cortado would be a wild game or any red meat but it will also be lovely with well-aged cheese. It is served around
12-16°C.
Pedro Ximénez
Pedro Ximénez Is a name used for naturally sweet dessert wines created with the grape variety with the same name. The grapes can be either picked very ripe or sun-dried to concentrate. These are intensely sweet wines, especially when the grapes are dried in the sun in a process called asoleo. The amount of sugar in Pedro Ximénez wines is typically between 300 and 400 grams of sugar per liter and this means the
fermentation will be partial at best. This sherry's not only displayed intense, ultra-sweet aromas of dates and candied figs but also flavors of coffee, chocolate, licorice, and spices. Older P.X. will have higher acidity and much more elegance compared as they become quite savory, with aromas of smoke, herbs, and smoke, but maintaining their sweet side.
Pedro Ximénez Pairing
Young Pedro Ximénez can be full of sticky sweetness These are excellent with chocolate desserts, crepes or spicy cheese. They should be chilled to around 12 to 14°C to balance the sweetness and also pair well with delicate desserts and several cheeses
Moscatel

Moscatel is a naturally sweet wine, produced in a similar way as Pedro Ximénez, with the grape variety being at least 85% Moscatel de Alejandria. They are so thick and sugary they can hardly ferment and this is stopped by fortification in the early stages.
A Moscatel Pasas or Moscatel de Pasas is made from grapes that were dried in the sun for up to three weeks, a process called asoleo. These raisin wines have a sweeter, darker profile. These sweet dessert sherry's are characterized by a lot of aromas of jasmine and orange blossom and fruitiness, with tones of honey and raisin. They are sometimes blended with Pedro Ximénez or a kind of must syrup called arrope to create a darker color and a more caramelly character. Moscatel is produced in different parts of Spain, as well as in other countries like Portugal.
Moscatel Pairing
Moscatel must be served slightly chilled at between 12 and 14º C. It makes the ideal combination for which are not excessively sweet, based on fruit and ice cream. What is your favorite?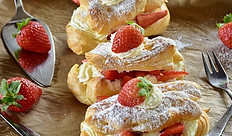 Medium / Cream
Cream sherry is the general name for different kinds of sweetened sherries. These are produced by blending a dry wine like Amontillado or Oloroso with naturally sweet Pedro Ximénez or Moscatel wines.
Medium sherry is half sweet. Sweet sherry used to be a hugely popular category, especially in certain export regions, but it is slowly losing ground in favor of the drier styles. In Spanish, this type of sherry wines is called Vinos Generosos de Licoror liquor wines.
The Cream / Medium category is named after a hugely popular product called Bristol Cream. Around 1860 they invented a kind of thick, sweet blend that originated in Bristol but became very popular throughout the world. Since the 1950's this is the top-selling sherry worldwide. Today sherry drinkers still cherish Bristol Cream but are also looking at the drier sherries. Once called abocado or amoroso, sometimes rich or dulce, the common name for sweetened sherry is now Medium and Cream
The best examples of sweetened sherry, Gonzalez Byass Matusalem or the Harveys Oloroso V.O.R.S. are old, established wines that are much more balanced than the cheap commercial types. The absolute best sweet sherries are sweetened long before bottling. In this process, the sweeter wine will blend with the dry one, creating a harmony resulting in a semi-sweet rather than a totally sweet wine.
Note that you can have sweetened Fino, sweetened Amontillado or sweetened Oloroso, but a lot of sweetened sherries will be blends, compositions of multiple styles. Usually, there's some Fino and Amontillado as a base wine, with Oloroso to add depth and Pedro Ximénez to add sweetness. Most of these blends are mixed right before bottling, but again the better examples return to a solera to mature further and integrate their flavors.
SWEETENED SHERRY
There are various categories for sweetened sherry, based on their sugar content and flavor:
Pale Cream sherry:
This sherry contains 45-115 grams of sugar per liter. It is composed around a biologically aged wine of Fino or Manzanilla. A
a well-known type of this style is the Croft Sherry.
Medium sherry:
This sherry contains between 5 and 115 grams of sugar per liter and usually produced around Amontillado.
Cream sherry:
This sherry is between 115–140 grams. A sweet wine produced around Oloroso, as well as Amontillado, and possibly blended with some Pedro Ximénez or Moscatel to make it sweeter.
Dulce:
This is the name for a naturally sweet sherry, produced like an Oloroso but as the fermentation is halted early leaving some residual sugar in the final product.
East India Solera:
This was derived from the tradition of maturing wines in the holds of ships that sailed for the East Indies. The motion of the ship and the specific climatic conditions would create a softer, more gentle style of sherry. Today the style is recreated by blending some Pedro Ximénez with Oloroso
and storing the resulting blend in the warmest parts of the winery.
Sweet Sherry Pairing
Because of its great sweetness, it should be served chilled, between 10 and 12°C, and it can be paired with a wide variety of ways such as with pastry, sweet pies, fruit salads, cheeses or after dinner with coffee.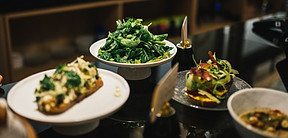 Please sign up for our email list below to get the latest information on our latest product descriptions, upcoming sales and special offers. We have some of the best offers in the business so please keep updated and have all questions answered in our COMMONWEALTH NEWS
Please make a selection from the fine dessert wines above or go to our MAIN SITE  to view all our collections of FINE WINE AND SPIRITS