BEST MERLOT WINES
Merlot is thought to be a diminutive of the French merle which is French for 'The Little Blackbird'. Merlot is the second most popular red grape in America and known for being soft, ripe and elegant. Merlot s are easy drinking reds that go well both with food as well as on their own. Its softness combined with its earlier ripening, makes Merlot a popular grape for blending with the sterner, later-ripening Cabernet Sauvignon.
Along with Cabernet Sauvignon, Cabernet Franc, Malbec and Petit Verdot, Merlot is one of the primary grapes used in Bordeaux wine, and it is the most widely planted grape in the Bordeaux wine regions. Merlot is also one of the most popular red wine varietals in essentially most markets. This flexibility has helped to make it one of the world's most planted grape varieties. As of 2015, Merlot was estimated to be the third most grown variety at 660,000 acres globally.
The earliest mention of this grape was in 1787 when a French winemaker in the Bordeaux region formally labeled the grape as an ingredient in his Bordeaux blend. The use of this grape spread across the Bordeaux and become known its ability to add fruitiness and softness to the wine with the combination of the favorite grape Cabernet Sauvignon. The Merlot and Cabernet Sauvignon combination became the main ingredients for the world-famous Bordeaux blends.
In 1824, the word Merlot itself appeared in an article on Médoc wine where it was described that the grape was named after the local black bird. Other descriptions of the grape from the 19th century called the variety lou seme doù flube meaning "the seedling from the river" with the grape thought to have originated on one of the islands found along the Garonne river. By the 19th century it was being regularly planted in the Médoc on the "Left Bank" of the Gironde river.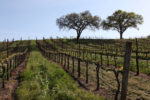 Merlot was introduced into Italy in 1855 with the name Bordo. The grape was also introduced to the Swiss in the 1800's and became popular in the early 20th century. As recently as the 1990's became very popular in the United States.
In the late 1990s, researchers at University of California, Davis showed that Merlot is an offspring of Cabernet Franc and is a half-sibling of Carménère, Malbec and Cabernet Sauvignon. The identity of the second parent of Merlot wouldn't be discovered until the late 2000s when an obscure and unnamed variety, first sampled in 1996 from vines growing in an abandoned vineyard in Saint-Suliac in Brittany, was shown by DNA analysis to be the actual mother of Merlot.
Merlot grapes are identified by their loose bunches of large berries with color has less of a blue/black hue than Cabernet Sauvignon grapes and with a thinner skin and fewer tannins per unit volume. It normally ripens up to two weeks earlier than Cabernet Sauvignon and tend to have a higher sugar content and lower malic acid.
Merlot thrives in cold soil, particularly ferrous clay. The vine tends to bud early which gives it some risk to cold frost and its thin skin increases its susceptibility to the viticultural hazard of Botrytis bunch rot.
While Merlot grapes are grown and wine produced throughout the world, there are two basic styles. The "International style" favored by many New World wine regions tends to emphasize late harvesting to gain specific ripeness and produce inky, purple colored wines that are full in body with high alcohol and lush, velvety tannins with intense, plum and blackberry fruit. The traditional "Bordeaux style" of Merlot involves harvesting Merlot earlier to maintain acidity and producing more medium-bodied wines with moderate alcohol levels that have fresh, red fruit flavors of raspberries, and strawberries.
Merlot is one of the world's most widely planted grape varieties. France is home to nearly two-thirds of the world's total plantings of Merlot. Beyond France, it is also grown in Italy, Algeria,]California, Romania, Australia, Argentina, Bulgaria, Canada, Chile, Greece, New Zealand, South Africa, Switzerland, Croatia, Hungary, Montenegro, Slovenia, and Mexico.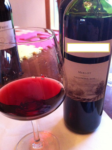 Styles of Merlot and Food Pairing
Light and Medium bodied Merlot s
Pizza and toasted cheese dishes.
Pasta dishes with tomato-based sauces
Grilled chicken with grilled vegetables, such as peppers, zucchini and eggplant
Cold ham
Stronger Styles of Merlot
Italian-style sausages with fennel
Spaghetti and meatballs
Baked pasta dishes such as lasagna and veggie bakes
Macaroni cheese
Meatloaf
Burgers – especially cheeseburgers
Spicy rice dishes such as jambalaya
Bean dishes with smoked ham
Roast turkey
Mild to medium hard cheeses
Seared – even blackened – salmon
Chinese style crispy duck
Braised short ribs
Chicken, pork or rabbit casseroles with a fruity element such as apricots or prunes
Merlot-dominated Blends from Bordeaux
Grilled chops – veal, pork or lamb – especially with herbs such as thyme and rosemary
Steak, especially in a red wine sauce
Beef Wellington
Roast beef or lamb with a simple jus or a mushroom sauce
Roast chicken, turkey and guinea fowl
Simply roast duck – and Chinese crispy duck
Please sign up for our email list below to get the latest information on our latest product descriptions, upcoming sales and special offers. We have some of the best offers in the business so please keep updated and have all questions answered in our COMMONWEALTH NEWS
Please review some selections of our Best Merlot Wines below and place an order or go to our

main site

for our extensive collections
Château de Langaleire 2017 Cadillac Côtes de Bordeaux
Spicy and smoky, this wine moves easily between bright berry fruits and a structure made for aging. With a fresh edge of black currants and a firm core of tannins, the wine will age well.
Château Tour des Gendres 2015 Les Gendres Parcelle No. A298 Merlot (Côtes de Bergerac)
One of several single-parcel wines from this producer, this 100% old-vine Merlot is dense and ripe. Red-berry flavors are warm, on the verge of becoming smooth while still having structure.
Georges Vigouroux 2016 Château Leret Monpezat Malbec-Merlot (Cahors)
Dense, concentrated and packed with tannins, this wine comes from one of the estates managed by the Vigouroux family. Ripe, juicy black fruits impress with richness, layers of spice and acidity.
Georges Vigouroux 2016 Château de Mercuès Malbec-Merlot (Cahors)
The spectacular hilltop castle of Mercuès, now a hotel, forms the backdrop to this wine's vineyards. The wine is powerful and dense, packed with tannins that are slowly melding with the black-plum fruits.
Beringer 2016 Bancroft Ranch Merlot (Howell Mountain)
Sanguine with fruity flavors of currant and cassis, this is a hearty, full-bodied and substantially ripe red, lush on the palate with a succulent texture. It has aspects of forest sage, dusty rock, cocoa powder that highlight mountain tannin structure and bold oak.
Januik Winery 2016 Merlot (Columbia Valley (WA))
The aromas draw you into the glass, with notes of dried herb, dark chocolate, cherry and cedar. Well-proportioned, slightly jammy red- and black-fruit flavors follow, supported by a lovely sense of structure andaccented by plentiful barrel spices.
K Cellars 2015 Merlot (Thracian Valley)
This garnet-colored Bulgarian Merlot has aromas of cranberry, dark plum,red raspberry and violet. There is a nice level of acidity in the midpalate with flavors of cherry preserves and ripe black raspberry.
Columbia Winery 2016 Merlot (Columbia Valley (WA))
Toast, freshly brewed coffee, chocolate and spice aromas are at the fore, with barrel notes playing a strong influence. Full-bodied raspberry and cherry flavors follow, shortening on the finish.
Lovingston 2017 Josie's Knoll Merlot (Monticello)
Nearly black in the glass with a vibrant magenta rim, this has a distinctly funky nose. The palate is mild in flavors of plum and red apple, with vanilla, tilled earth and cocoa powder.
Maryhill 2016 Proprietor's Reserve Merlot (Columbia Valley (WA))
Dried herb, cherry, dark chocolate, raspberry, plum and anise aromas are out front. Plump, tart fruit flavors follow. There's a strange mixture of tartness and ripeness.
Please follow and like us: