TOP RIESLING WINE BRANDS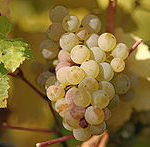 Riesling is a white grape variety which originated in the Rhine region. Riesling is an aromatic grape variety displaying perfumed and flowery aromas as well as high acidity. It is used to make dry, semi-sweet, sweet, and sparkling white wines. Riesling wines are usually varietally pure and are seldom aged in oak barrels. Riesling wines have been mentioned in the literature in the early 1400's and originated in the Rhine River region in Germany/Alsace as the birthplace of Riesling. The grape is a natural derivative of Gouais Blanc, a French grape that is the ancestor to many of today's most well-known wines, including Muscadelle, Riesling, Petite Verdot, Chenin Blanc and Chardonnay.
Earlier, Riesling was sometimes claimed to have originated from wild vines of the Rhine region. More recently, DNA fingerprinting indicated that one parent of Riesling is Gouais blanc, a variety that, while rare today, was widely grown by the French and German peasantry of the Middle Ages. The other parent is a cross between a wild vine and Traminer. It is presumed that the Riesling was born somewhere in the valley of the Rhine, since both Heunisch and Traminer have a long documented history in Germany, but with parents from either side of the Adriatic sea the cross could have happened anywhere on the way.
Riesling was estimated to be the world's 20th most grown variety, but in terms of importance for quality wines, it is usually included in the "top three" white wine varieties together with Chardonnay and Sauvignon blanc. Riesling is a variety of wine that its characterized and is greatly influenced by the wine's place of origin.
In cool climates, such as many German wine regions, Riesling wines tend to exhibit apple and tree fruit notes with noticeable levels of acidity that are sometimes balanced with residual sugar. A late-ripening variety that can develop more citrus and peach notes is grown in warmer climates. Riesling is often noted for a characteristic lime note that tends to emerge in examples from the southern regions of Australia. Riesling's naturally high acidity and pronounced fruit flavors give wines made from the grape exceptional aging potential, with well-made examples from favorable vintages often developing smokey, honey notes.
Rieslings flavors starts with intense aromas that rise from the presentation. This aromatic wine offers primary fruit aromas of orchard fruits like nectarine, apricot, honey-crisp apple, and pear. Besides fruit, you'll often smell things like honeycomb, jasmine, or lime peel, along with a striking aroma that smells similar to petrol. On the palate, Riesling has high acidity, similar to the levels in lemonade.
Riesling: Sweet or Dry
Traditionally, most Riesling wines are on the sweeter end of the spectrum, in order to balance the wine's high acidity. Nowadays, there is also a deal of dry (as in, not sweet) Riesling for those who prefer a leaner-tasting wine.
Dry Reisling: Riesling from Alsace, German Riesling, Washington State Riesling, most New York Riesling and most Australian Riesling from Clare and Eden Valleys.
Sweet Riesling: German Pradikat Riesling, or Riesling labeled sweet or feinherb
Characteristics: FRUIT FLAVORS apricot, nectarine, peach, apple, pear, pineapple, lime, and lemon
Other Aromas honey, honeycomb, beeswax, petrol, ginger, citrus blossom.
ACIDITY High
BLENDING Rarely is Riesling blended with other grapes or other bulk sweet table wine.
Riesling Pairing Recommendations:
Riesling is predominately sweet and acidic. It makes the perfect accompaniment to spicy food. Strong Indian and Asian spices are a perfect match with Riesling. A classic pairing with Riesling is spiced duck leg.
Meat Pairings:
Duck, Pork, Bacon, Chicken, Shrimp, and Crab Spices and Herbs
Highly spiced and aromatic herbs including Cayenne Pepper, Ginger, Clove, Cinnamon, Allspice, Tumeric, Madras Curry, Sichuan Pepper, Shallots, Soy Sauce, Sesame, Marjoram, Basil, Rice Vinegar, and Teriyaki Sauce.
Cheese Pairings:
Try it with less stinky and delicately flavored soft cow's milk cheese and dried fruit.
Vegetables & Vegetarian Fare:
Roasted vegetables and veggies with natural sweetness including Coconut, Red Onion, Bell Pepper, Eggplant, Tempeh, Squash, and Carrot.
Naked Winery "Tease" Oregon Riesling
This 2014 Naked Winery Riesling is among the best sweet Riesling wine. An American product that allows one to experience the sweetness of this wine that mixes fruity aromas such as lemon, apricot, and melon with Brazilian spices to create an exquisite taste. Naked Winery "Tease" is a good Riesling to try if you want to share it with friends and pair it with seafood or cheeses. Naked Winery is among the best sweet Riesling wine brands, and "Tease" is the clear indicator that affordability and quality can go together well.
Van Volxem Riesling
If you are searching for the best German Riesling wine this is the candidate. The Van Volxem Riesling is a fresh, summer, wine that will perfectly compliment your salad and cheese dishes. Serve it at room temperature and enjoy the mild acidity of this dry wine that will not go unnoticed.
King Frosch Riesling Auslese
This wine is a best-seller, as well as the best German Riesling wine on the market, and you will be impressed by its qualities. This special King Frosch should be cooled down before serving. It's an original take on the classic Riesling wine and it mixes balanced flavors and a great color that will transform you into a Riesling fan in no time!
NV Ste Chapelle Soft Huckleberry
The best sweet Riesling wine brand is the Ste Chapelle Special Harvest Riesling if you want to enjoy a mix of delicious fruit notes and crisp acidity. The sweetness of the peaches and apricots are a perfect match with angel food cake, making this Riesling one of the best dessert wine available.
Carl Von Schubert Maximin Grunhauser Abtsberg Riesling
If you are asking yourself what is a good Riesling wine, you can't go wrong with the German Carl Von Schubert variety. This fairly expensive dry wine is a premium product that will please specialists and amateur wine lovers alike. Produced with specialized techniques and using high-quality grapes, this Riesling is a delicate, well-balanced wine. Mixing acidity and fruity flavors, Carl Von Schubert Maximin Grunhauser Abtsberg Riesling is one of the best Riesling wine products you could find.
Washington Hills Riesling, Washington
The American wine, Washington Hills Riesling is an easy, fresh wine anyone can enjoy. You don't have to be a wine specialist to fall in love with the variety of aromas from peach and honey that are incredibly balanced and pleasant. This off dry wine is a great pair for spicy dishes and cheeses. Order this now online here and leave me comment.
Pacific Rim Columbia Valley Dry Riesling
The Pacific Rim Columbia Valley Dry Riesling is an ideal pair for European and Asian cuisine, this American dry Riesling is a great choice for any family dinner, being one of the best Riesling wine options. Serve it along seafood or cold meats and you will discover a remarkable taste that increases the flavor of the food. This complex and versatile wine mixes citrus and jasmine flavors with a crisp and dry after-taste that will linger on your palate
NV Candy Babee California Riesling White Wine
The floral notes blend magnificently with the citrus fruit flavors, to create this Riesling. Wine connoisseurs will recognize the complex, unbelievable mix of fruity flavors, that go from orange to apples, and from pears to apricots and super sweet peaches. The sugary notes are exceptionally balanced by a soft acidity and a lightly bitter grapefruit final hint. This might be not only the best Riesling wine, but also the funniest one! To take full advantage of this great Riesling, pair it with hot and spicy dishes! Please try this selection and let me hear your thoughts
Purple Star Ancient Lakes Riesling
The Ancient Lakes winery is very famous for their quality Riesling wines, which stand out for their aromatics and minerality. This great Riesling from Ancient Lakes of Columbia Valley blends notes of apricot and peaches with flavors of honey and stone fruits. Natural acidity balances the final product. It pairs perfectly with pork chops or spicy Asian food. Purple Star Riesling from Ancient Lakes has high scores and top reviews from both critics and customers.
Westport

Winery "Peaches on the Beaches" Riesling & Peach wine blend
This the best Riesling wine pick as a premium product from Westport Winery. With a delicious fruity bouquet, this Riesling is described as decadent and sensual pleasure. It is made of Riesling grapes and peaches, and has an alcohol volume of 11%. Its luscious notes will pair perfectly with fruits and cheeses.
Please sign up for our email list below to get the latest information on our latest product descriptions, upcoming sales and special offers. We have some of the best offers in the business so please keep updated and have all questions answered in our COMMONWEALTH NEWS
Please make a selection of a great Riesling. Also go to our main site to select from our world of fine wines, spirits, accessories and gifts.

Please follow and like us: