BEST SHERRY WINE
Sherry is a fortified wine made from white grapes that are grown near the city of Jerez de la Frontera in Andalusia, Spain. Sherry is produced in a variety of styles made primarily from the Palomino grape, ranging from light versions similar to white table wines, such as Manzanilla and Fino, to darker and heavier versions that have been allowed to oxidize as they age in barrels, such as Amontillado and Oloroso. Sweet dessert wines are also made from Pedro Ximénez or Moscatel grapes and are sometimes blended with Palomino-based sherries. The sherry designation contains some of the driest as well as the sweetest wines on the planet.
Today, sherry, just as with other spirits or liquors, can only be made within a specific region. Known as the Marco de Jerez or "Sherry Triangle," sherry is made in three towns in Southern Spain — Jerez de la Frontera (known simply as Jerez, and pronounced "he-ref"), Sanlúcar de Barrameda, and El Puerto de Santa Maria.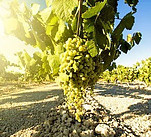 After fermentation is complete, the base wines are fortified with grape spirit in order to increase their final alcohol content. Wines classified as suitable for aging as Fino and Manzanilla are fortified until they reach a total alcohol content of 15.5 percent by volume. As they age in barrel, they develop a layer of flor—a yeast-like growth that helps protect the wine from excessive oxidation. Those wines that are classified to undergo aging as Oloroso are fortified to reach an alcohol content of at least 17 percent. They do not develop flor and so oxidize slightly as they age, giving them a darker color. Because the fortification takes place after fermentation, most sherries are initially dry, with any sweetness being added later. In contrast, port wine is fortified halfway through its fermentation, which stops the process so that not all the sugar is turned into alcohol.
Wines from different years are aged and blended using a solera system before bottling so that bottles of sherry will not usually carry a specific vintage year and can contain a small proportion of very old wine.
Jerez has been a center of viniculture since wine-making was introduced to Spain by the Phoenicians in 1100 BC. The practice was carried on by the Romans when they took control of Iberia around 200 BC. The Moors conquered the region in AD 711 and introduced distillation, which led to the development of brandy and fortified wine.
Wine production continued through five centuries of Muslim rule. In 1264 Alfonso X of Castile Spain took the city. From this point on, the production of Sherry and its export throughout Europe increased significantly. By the end of the 16th century, Sherry had a reputation in Europe as the world's finest wine.
Christopher Columbus brought Sherry on his voyage to the New World and when Ferdinand Magellan prepared to sail around the world in 1519. He spent more on Sherry than other significant supplies.
Sherry became very popular in Great Britain, especially after Francis Drake sacked Cadiz in 1587 and acquired 2,900 barrels of Sherry. These spoils of war were brought back to the British Isles and made Sherry very popular. Because sherry was a major wine export to the United Kingdom, many English companies and styles developed. Many of the Jerez cellars were founded by British families.
BEST SHERRY WINE, DRY AND SWEET TYPES
Fino is the driest and palest of the traditional varieties of Sherry. The wine is aged in barrels under a cap of flor yeast to prevent contact with the air. There is oxygen exposure, but the perfect amount, given the flor's protective abilities. Relatively simple and great chilled, this is a good, inexpensive introduction to sherry. Try it with tapas. Fino sherries are purely biological in their production.
Manzanilla is an especially light variety of Fino Sherry made around the port of Sanlúcar de Barrameda. Manzanilla is also aged under the flor and shares many characteristics with fino sherries, except for one: Manzanilla sherry is only made in Sanlúcar de Barrameda.
Manzanilla Pasada is a Manzanilla that has undergone extended aging or has been partially oxidized, giving a richer, nuttier flavor.
.
Amontillado is a variety of Sherry that is first aged under flor and then exposed to oxygen, producing a sherry that is darker than a Fino but lighter than an Oloroso. Naturally dry, they are sometimes sold lightly to medium sweetened but these can no longer be labeled as Amontillado. The result is a beautiful tawny specimen, often tasting woodsy, with candied fruit and nut elements. Amontillado sherries retain both the biologic and oxidative elements of sherry production.
Oloroso ('scented' in Spanish) is a variety of Sherry aged oxidatively for a longer time than a Fino or Amontillado, producing a darker and richer wine. With alcohol levels between 18 and 20%, Olorosos are the most alcoholic sherries. Like Amontillado, naturally dry, they are often also sold in sweetened versions called Cream Sherry (first made in the 1860s by blending different sherries, usually including Oloroso and Pedro Ximénez). If you're looking for sherry at its most dense and sophisticated, this style is for you.
Palo Cortado is a variety of Sherry that is initially aged like an Amontillado, typically for three or four years. This will develop a character closer to an Oloroso. This either happens by accident when the flor dies or commonly the flor is killed by fortification or filtration.
Jerez Dulce (Sweet Sherries) are made either by fermenting dried Pedro Ximénez or Moscatel grapes, which produces an intensely sweet dark brown or black wine or by blending sweeter wines.
Grapes for Sherry Production
Currently, there are only three white grapes grown for sherry-making:
Palomino: the dominant grape used for the dry sherries. Approximately 90 percent of the grapes grown for Sherry is Palomino. As varietal table wine, the Palomino grape produces a wine of very bland and neutral characteristics. This neutrality is actually what makes Palomino an ideal grape because it is easily enhanced by the sherry winemaking style.
Pedro Ximenez: used to produce sweet wines. When harvested these grapes are typically dried in the sun for two days to concentrate their sugars.
Moscatel: used similarly to Pedro Ximénez, but it is less common.
Fortification
Immediately after fermentation, the wine is sampled and the first classification is performed. The casks are marked with the following symbols according to the potential of the wine:
/
a single stroke indicates a wine with the finest flavor and aroma and thus compatible with Fino or Amontillado. These wines are fortified to about 15 percent of alcohol to allow the growth of flor.
/.
A single stroke with a dot indicates a heavier, more full-bodied wine. These wines are fortified to about 17.5 percent alcohol to prevent the growth of flor, and the wines are aged oxidatively to produce Oloroso.
//
a double stroke indicates a wine that will be allowed to develop further before determining whether to use the wine for Amontillado or Oloroso. These wines are fortified to about 15 percent alcohol.
///
a triple stroke indicates a wine that has developed poorly and will be distilled.
Fine Sherry and What To Eat
The wines under the 'sherry' umbrella range from the lightest and driest in the world right through to the sweetest and everything in between. Here are just a few of the key styles to try and what to eat with them. All but one here are made from the white Palomino grape.
Fino and Manzanilla
The lightest and driest sherries, with virtually no sugar content. Not the style that most Brits associate with sherry, but these days it's hugely popular. Treat like a dry white wine.
Straw-colored, crisp, with nutty floral notes. It's aged under a beautiful layer of 'flor' made of local yeasts that protect its light color and give huge flavor to the wine.
Drink with: Lots of tapas would be a good start! In particular, anchovies, fine ibérico ham, crisp fried fish and plump juicy prawns, as well as sushi. Always drink fridge cold in a wine glass. Order good olives and almonds than just keep grazing.
Amontillado
A style that started life as a fino, but then aged for several more years creating a delicate and elegant wine, dry, amber-colored with floral and caramel notes, dried fruits and hazelnuts.
Drink with: Perfect with mushrooms, risottos and Spanish rice dishes. It pairs incredibly with asparagus and artichokes, as well as smoked fish and cured meats. Also, brilliant with spiced oriental and Asian dishes. It's so versatile with most foods.
Oloroso
Oloroso translates to 'aroma'. It's powerful and robust, and a bit higher in alcohol (at least 17%). Aged in contact with oxygen, the color has more of a mahogany tinge. Olorosos will be warming, rounded, with hints of wood, hazelnut, and dried fruits.
Drink with: As a more powerful sherry it pairs wonderfully with braises, stews, casseroles and mature cheese. It also goes wonderfully well with good rare tuna dishes.
Pedro ximenez
'PX' as it's often termed is no shrinking violet. If fino is the driest sherry in the world, then this is the sweetest, with up to 50% sugar content! Not made from palomino, but actually from the Pedro Ximenez grape, sun-dried in the Andalucian sun to concentrate its sugars before being pressed.
Drink with: vanilla ice cream as a saturating topping. Also, heavenly with any chocolate dessert, such as churros with hot chocolate sauce. Contrasting it also pairs wonderfully with strong blue cheeses.
Please sign up for our email list below to get the latest information on our latest product descriptions, upcoming sales and special offers. We have some of the best offers in the business so please keep updated and have all questions answered in our COMMONWEALTH NEWS
Please sample some of our fine selections of Sherry or go to our

main site

for an absolutely

complete selection

of fine wines and exceptional beverages for your pleasure.
Deliciosa manzanilla 2019 en rama valdespino, 15%
El Maestro Sierra amoroso medium, 19%
Mil Pesetas cream sherry NV, 18%
Don PX vino dulce de passas 2017, 17%
Gonzalez byass apostoles palo cortado VORS, 20%
Pedro's almacenista selection amontillado, 19%
Xeco fino, 15%
Croft Particular sherry, 17.5%
Gonzalez byass del duque VORS amontillado sherry, 21.5%