BEST GEWURZTRAMINER WINE
Gewurztraminer A German wine is used in white wines and grows and thrives best in cooler climates. Gewürztraminer is a variety with a pink to red skin color, which makes it a "white wine grape". Dry Gewürztraminers may also have aromas of roses, passion fruit, and floral notes. It is not uncommon to notice some spritz or fine bubbles on the inside of the glass.
The German name Gewürztraminer literally means "Spice Traminer" or "Perfumed Traminer", and originally comes from the Alsace region in France. This grape variety is a mutation of the Savagnin blanc, also named Traminer in South Tyrol (northern Italy).
Gewürztraminer is particular about soil and climate. The vine is vigorous, but it hates chalky soils and is very susceptible to disease. It buds early, so is very susceptible to frost, needs dry and warm summers, and ripens erratically and late. Its natural sweetness means that in hot climates it becomes blowsy, with not enough acidity to balance the huge amounts of sugar. On the other hand, picking early to retain the acidity, means that the varietal aromas do not develop, and these aromas may be further diluted by overcropping in an attempt to overcome the low yields.
The history of Gewürztraminer starts with the ancient Traminer variety, a green-skinned grape that takes its name from the village of Tramin, located in South Tyrol, the German-speaking province in northern Italy. It was thought that Traminer was identical to the green-skinned Savagnin blanc. More recently it has been suggested that Savagnin blanc acquired slight differences in its leaf shape as it traveled to the other end of the Alps. The Viognier of the Rhone Valley may be a more distant relative of Savagnin blanc.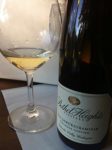 At some point, either Traminer or Savagnin Blanc mutated into a form with pink-skinned berries, called Red Traminer or Savagnin Rose. A mutation in the Red Traminer/Savagnin rose then led to the extra-aromatic Gewürztraminer, although in Germany these names are all regarded as synonymous.
Traminer is recorded in Tramin from ca. 1000 until the 16th century. It was spread down the Rhine to Alsace, by way of the Palatinate, where Gewürz (spice) was added to its name – presumably, this was when one of the mutations happened. The longer name was first used in Alsace in 1870 – without the umlaut.
Gewürztraminer is like a version of Moscato. While Gewürztraminer wine has many similarities to Moscato it also has higher alcohol, more striking aromatics and lower acidity. All of these characteristics make Gewürztraminer a glass of wine to savory.
The first aroma you'll come across in a glass of Gewürztraminer is its tell-tale lychee aroma or 'sweet rose.' The lychee aroma is usually so intense, it's one of Gewürztraminer's 'tells' in a blind tasting. If you're drinking high quality Gewürztraminer you'll find a great many complex aromatics including Ruby Red grapefruit, rose petal, ginger and a smoky aroma similar to burnt incense.
Gewürztraminer is an aromatic grape-like Moscato, Riesling, and Torrontés and it will have an inherently sweet flavor simply due to the smell. Generally, Gewürztraminer has a gram or two of residual sugar (RS). But because of the heightened aromatics, higher alcohol, and lower acidity, many Gewürz taste sweeter than they actually are.
Gewürztraminer Wine Regions
Australia
Australian Gewürztraminer is more notable from the country's coolest regions. These include Gewürztraminers from the Adelaide Hills, Eden Valley, the island of Tasmania, Clare Valley, Yarra Valley and the vineyards scattered in the Australian Alps. The Macedon Ranges, just North of Melbourne has a cold climate and volcanic soils, much suited to the production of Gewürztraminer. (Macedon Ranges Vignerons Association.)
Canada
Canadian wine regions where it is grown include Vancouver Island and the Okanagan Valley of British Columbia, the Niagara Peninsula, and the north shore of Lake Erie and Prince Edward County wine regions of Ontario.
France
Gewürztraminer reaches its finest examples in Alsace, where it is the second most planted grape variety and the one most characteristic of the region. It grows better in the south of the region. Styles of Gewurztraminer d'Alsace range from the very dry Trimbach house style to the very sweet. The variety's high natural sugar means that it is popular for making a dessert wine, both vendange tardive and the noble rot-affected Sélection de Grains Nobles.
As mentioned above, around Heiligenstein there is a grape known as Klevener de Heiligenstein, which is a Red Traminer (Savagnin Rose) and not a true Gewürz; the Heiligenstein wines are certainly more restrained than other Gewurztraminer d'Alsace.
Germany
Germany has about 10 square kilometers of the variety, but it is very different from that of its neighbors across the Rhine. The Germans go for a relatively dry style, that tries to subdue the natural flamboyance of the grape.
Italy
The Traminer is native to the cool Alpine slopes of the Trentino-Alto Adige/Südtirol in northeastern Italy. Whether the Gewürz- mutant is certainly grown there today. What is certain is that the name "Traminer" derives from the town of Tramin. Confusingly, both pink and green grapes may be called simply Traminer.
Luxembourg
Luxembourg has also been prominent in the production of wines with Gewürtztraminer grapes.
United States
In the United States, Gewürtztraminer grapes are concentrated in Monterey, Mendocino, and Sonoma in California, the Columbia Valley of Washington and Oregon, and the Snake River Region of Idaho. It is also grown in Michigan, Rhode Island, Caddo County, Oklahoma, Ohio, Pennsylvania, Kentucky, Indiana, Hawaii, Texas, Virginia, Maryland, Missouri, New Mexico, New Hampshire, Grand Valley, Colorado and the Finger Lakes and Long Island Regions of New York.
GEWURZTRAMINER FOOD PAIRING SUGGESTIONS
Middle Eastern and Moroccan cuisine, both utilizing nuts and dried fruits with roasted meats
Meat Pairings:
Beef Pork, Chicken, Duck, Shrimp, and Crab
Spices and Herbs:
Highly spiced and aromatic herbs including Cayenne Pepper, Ginger, Clove, Cinnamon, Allspice, Turmeric, Madras Curry, Sichuan Pepper, Shallots, Soy Sauce, Sesame, Almond, Rose Water, Lime Leaf, Bay Leaf, Coriander, Cumin
Vegetables & Vegetarian Fare:
Roasted vegetables and veggies: Coconut, Red Onion, Bell Pepper, Eggplant, Tempeh, Squash and Carrot.
Spicy Dishes: Chinese Sichuanese, Korean, Indian Food,
Strong Cheeses: Munster, Epoisses, Maroilles and Stinking Bishop:
Desserts:
apple-based desserts such as apple crumble or streusel cakes with cinnamon
mango-based desserts with ginger.
Please sign up for our email list below to get the latest information on our latest product descriptions, upcoming sales and special offers. We have some of the best offers in the business so please keep updated and have all questions answered in our COMMONWEALTH NEWS
Please review some fine

Gewürztraminer

wines below or go to our main site for a complete selection of fine wine and spirits
Robertson Late Harvest Gewürztraminer South Africa- Full bodied wine with honeysuckle and rose petals in bouquet.
Claiborne & Churchill Gewürztraminer Central Coast, CA- Not only is this aromatic and floral "spicy" varietal, it is also a remarkably dry dinner wine.
Anne de K Gewurztraminer Vogelgarten Vieilles Vignes Alsace, France- A complex nose composed of fruits and flowers with a spicy touch that suggest a powerful wine.
Elfenhof Gewurztraminer Spatlese Austria- Gorgeously sweet Gewurztraminer with moderately low alcohol and typically alluring diversity of aromas, including rose petals, pear, nutmeg, and white lilies.
Courtney Benham Gewurztraminer California – Made in a slightly sweeter style, a crisp refreshing wine that is gorgeous. Loaded with spicy aromas and lush, exotic fruit flavors.
Albrecht Gewurztraminer Tradition Alsace, France- Bursting with aromas of rose petal, tropical fruits and exotic litchi, yet dry and lush on the palate.
Arthur Metz Gewurztraminer Alsace, France- Spicy notes of cinnamon and Asian five-spice linger in the nose of this delicious dry white.
Cottesbrook Gewurztraminer Canterbury, New Zealand- This medium-bodied Gewurtztraminer presents an intense aroma of crushed rose petals with exotic spices.
Geil Gewurztraminer Kabinett Rheinhessen, Germany- The Gewurztraminer grape variety ripens especially well in the Rheinhessen region of Germany. The resulting dry style wine is aromatic and perfumed with a fruity, spicy flavor.
B Lovely Gewurztraminer Washington- Fragrant aromas of lychee, pear, and spice. This wine is fresh and focused with bright lychee, tropical fruit, and honeysuckle flavors.
Fetzer Gewurztraminer California- Passion fruits along with tangerine, mango and aromas of honey and orange spice join with pineapple, baked pears and hints of cinnamon.
Please follow and like us: