Best Grenache Wine
Grenache or Garnacha is one of the most widely planted red wine grape varieties in the world. It ripens late, so it needs hot, dry conditions such as those found in Spain, where the grape most likely originated. Grenache is the French (and most internationally recognized) name for the grape, but it has a number of synonyms. In Spain, where it is one of the country's primary varieties, it is known as Garnacha, and on the island of Sardinia, it has been known for centuries as Cannonau. Some believe that the grape originated in Sardinia, and was taken back to Spain by the Aragonese, who occupied the island in the 14th Century.
Grenache is spicy, berry-flavored with relatively high alcohol content, but it needs careful control of yields for best Grenache wine. Characteristic flavor profiles on Grenache include red fruit flavors (raspberry and strawberry) with a subtle, white pepper spice note. As Grenache ages, the wines tend to take on more leather and tar flavors. Wines made from Grenache tend to lack acid, tannin and color, and it is often blended with other varieties such as Syrah, Carignan, Tempranillo, and Cinsaut. Grenache (Garnacha) is grown extensively in France, Spain, Australia, and the United States.
In Spain, Garnacha is the second most-planted red-wine grape variety, surpassed only by its modern blending partner Tempranillo. It is grown in almost every area of Spain, but most notably in the north and east – it is the key constituent in the prestigious wines of Priorat. The arrival of the grapevine pest phylloxera to the Iberian Peninsula in the 19th Century brought unexpected benefits to Garnacha; as the native vines were devastated it was robust Garnacha that replenished the vineyards and helped to re-energize the wine industry.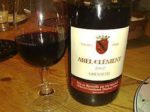 In France, Grenache is most widely planted in the southern Rhone Valley and throughout both Provence and Languedoc-Roussillon. It is most commonly found alongside Syrah and Mourvedre in the classic Southern Rhone Blend (notably in Cotes du Rhone wines), and is the main grape variety in Chateauneuf-du-Pape.
In the 1980s and 1990s, Grenache's status was reduced, but it survived efforts to eradicate it, returning to international favor in the 21st Century. Emerging wine-producing nations such as China, Mexico and Israel are now cultivating this ubiquitous grape variety.
Grenache is a vigorous and hardy vine with a strong wooden frame, often grown as free-standing bush vines. It is resistant to wind and drought, making it suitable for use in arid climates in California and South Australia. Because it is often grown in hot environments, the alcohol levels of Grenache-based wines can be very high, often surpassing 15 percent ABV. Some Australian winemakers use Grenache as the base for fortified, Port-style wines, but its most common use in the country is in the GSM blend – the classic combo of Grenache – Shiraz – Mourvedre.
Grenache berries have thin skin and ripen late in the growing season. Acid and tannins can be variable depending on growing conditions and cropping levels but tend towards the low-medium end of the spectrum. However, old-vine Grenache grown in schist or stone can produce significantly concentrated wines capable of aging over many decades.
The Grenache Grape
Grenache vines are popular among both growers and drinkers for many reasons, including their hardiness and ability to grow grapes that are fruity and low in tannin. Grenache grapes are:
Natural sweetness: Wines made with grenache burst demonstrate ripe fruit flavors like raspberry, red and black cherry, and strawberry jam.
Blend well: Grenache is aromatic and full of fruit flavor, so it is an easy choice to blend with meatier, more tannic grapes like mourvedre or syrah.
A Versatile Wine: Most grenache varietal wines are approachable and can be enjoyed young, but with careful wine making practices from the fruit of old vines, grenache can become a complex, powerful wine that can be aged well.
Variations of the Grenache Grape
There have been many mutations to this ancient grape variety producing different appearances
Grenache noir: This is the original and most common grenache, whose thin skins result in a medium-ruby colored wine. It is made into red wines as well as rosé styles.
Grenache Blanc: A white mutation of Grenache, that is grown in northeast Spain as well as France's Rhône Valley. White Priorat wines made from grenache blanc and other white grapes are gaining popularity. Grenache blanc has long been an important blending grape in rich southern Rhône whites.
Grenache Gris:, A mutation named after the grayish-pink color of its skin. It is mostly planted in France's Roussillon, where it is blended with Grenaches noir and blanc in the dessert wines of Banyuls, Rivesaults, and Maury.
Grenache Wine Style
The grenache grape is made into many different wine styles, from dry to sweet, and from white to red.
Spain:
Priorat: The wines from Priorat are usually made with cariñena in powerful, spicy blends that are sometimes aged in new oak. These wines can age well
Rioja and Navarra: Grenache is used to soften or add aroma to the tempranillo grape. On their own, grenache wines from these regions are light in color with fleshy, red fruit.
France:
Côtes du Rhône AOC is the label found on most Grenache-based wines made in France's Southern Rhône region. The Grenache is usually blended with a little syrah, carignan, or mourvedre. Côtes du Rhône wine can also be 100% grenache. These are good value wines with moderate tannins and a herbal, tobacco overtone to the red fruit aromas.
Châteauneuf-du-Pape is an appellation in the Southern Rhône where 13 grapes, including all of the Grenaches, are allowed in the wines. These wines are smokey and intense, with savory licorice notes.
Provence rosé: Some of the most popular rosés from Provence are often Grenache-based, which gives them strawberry and orange zest flavors.
Languedoc, a region in southern France, is responsible for juicy, inexpensive grenache/Syrah/Mourvedre (GSM) blends. The warm climate means that these wines are full-bodied and higher in alcohol. Languedoc whites are usually unoaked, easy-drinking blends made with grenache blanc and other local white grapes.
Roussillon, the region southwest of Languedoc, is known for fortified dessert wine called vin doux naturels, made from grenache blanc, grenache gris, and grenache noir. VDNs labeled rancio are made in an oxidative style, similar to Madeira.
New World:
Australia is known for its GSM blends. Shiraz/syrah is still the most well-known of the three grapes, but a few top producers in the Barossa Valley and the Yarra Valley have recently released varietal grenache wines. The sweetness and alcohol in the wines are amplified by Australia's warm climate, but producers are using winemaking techniques to create a slightly lighter style of wine.
California has been growing grenache ever since a wave of Italian immigrants brought the grape with them to the United States in the 1880s. Small producers in the Central Coast are reviving grenache's reputation as an easy-drinking table wine, but prizing quality over quantity.
GRENACHE FOOD PAIRING
Grenache Whites Garnacha Blanca/Grenache Blanc
Raw Shellfish, Summer Salads, Scallop Risotto
Fried Seafood, Fried Chicken, GlazedHam,
Grenache Reds: Garnacha Tinta/Grenache Noir
Indian Curries, Burquers with Smoked Gouda, Chorizo in Red Wine
BBQ Ribs, Grilled Sausages, Lamb Chops
Grenache Rosé garnacha/grenache wines
Grilled Tuna, Chicken Salad, Charcuterie
soft cheeses like Camembert or Brie, pasta with cheese or cream sauce, scrambled eggs, poached egg, or stuffed hard-boiled eggs.
Desserts: lemon sponge cakes, chocolate and cream cake, crepes with melted chocolate or fruit tarts.
Fortified Sweet Wine: Vin Doux Naturel (VDN)
Deep dark chocolates, caramels, Desserts, and Fruits
Sparkling Grenache Wine
Desserts Sushi lemon sponge cakes, chocolate, cream cake, crepes with melted chocolate or fruit tarts.
Please sign up for our email list below to get the latest information on our latest product descriptions, upcoming sales and special offers. We have some of the best offers in the business so please keep updated and have all questions answered in our COMMONWEALTH NEWS
PLEASE CHECK OUT THE SAMPLES BELOW FOR A FINE GRENACHE WINE OR PLEASE GO TO OUR MAINTAIN SITE TO CHOOSE ANOTHER FINE SELECTION
Domaines Lupier El Terroir 2012
Viñas Del Vero La Miranda De Secastilla Garnacha 2012
Hancock & Hancock Grenache Rosé 2016
A.D. Beckham Amphora Grenache MMXV
Ess & See Grenache No 2 2012
Zalze Shiraz Grenache Viognier 2015
Comando G Las Rozas 1er Cru 2015
Côtes-Du-Rhône Rouges Ceps Centenaires La Mémé 2014
Waitrose Côtes Du Rhône Villages 2015
Bodegas Borsao Tres Picos Garnacha 2015
Domaine Grandy Vacqueyras 2014
Please follow and like us: