Experiencing the Best Cabernet Sauvignon Wines
Cabernet Sauvignon is one of the world's most notable red wine grapes with it's historical and regional roots established in the Bordeaux, France. Cabernet Sauvignon grapes grow well in warmer climes with plenty of sunshine and a variety of soil conditions. Cabernet Sauvignon is a red grape varietal known for its thick, durable skin, and the vine's resistance to the elements. After the birth of the grape, the Cabernet Sauvignon varietal began to be adopted in parts of France by winemakers searching for more durable plants that were relatively easy to grow, and the grape found its champion in the region of Bordeaux thus producing the best Cabernet Sauvignon wines. It actually wasn't proven that Cabernet Sauvignon was born from Cabernet Franc and Sauvignon Blanc until 1996 by wine researchers at the University of California at Davis.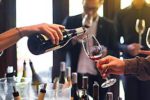 The Bordeaux winemakers loved the grape's healthy level of tannins, which meant the wine could evolve or be aged in the bottle for many years. They also determined that it responded incredibly well to aging in oak barrels, as the oak brought out and added new flavors. The result was a wine that was full-bodied with a medium level of acidity. This brought out some great flavors that made it the perfect wine for drinking with food. As they started playing with the varietal, they began blending it with other grapes, such as Merlot. The winemakers thus produced and created the world-famous wine blend of Bordeaux.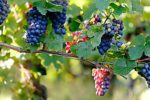 When Bordeaux wine blend evolved into one of the world's most famous and highly coveted wines, the Bordeaux brand spread across the globe, and with the press for Bordeaux went the Cabernet Sauvignon grape. As the name of the grape spread, and more people around the world began to grow it, and Cabernet Sauvignon became the most widely planted grape globally until Merlot overtook it in the nineties.
In the 1970's Cabernet Sauvignon saw its reputation enhanced further when it was planted in California. In 1976, a Cabernet Sauvignon from Stags' Leap in the Napa Valley beat out the top Bordeaux Chateaus in the 1976 Judgment of Paris in a blind taste test. After this defining moment, California Cabernet Sauvignon became immensely popular throughout the world.
As a wine, Cabernet Sauvignon is known for its dark color, full body and alcohol content that is over 13.5%, with the best Cabernet Sauvignon wines, especially those from places such as California, Australia and Chile, being more like 14.5% and sometimes even going over 15%. The wine is dry (not sweet) and has a healthy level of tannin, which is why your mouth dries out when you sip it. Many people who drink Cabernet Sauvignon say they always pick up a taste of green pepper in the wine, along with tobacco, cassis, and dark fruits such as cherries, along with a hint of vanilla that comes from the wine aging in the oak.
Cabernet Sauvignon is a wine that needs to be drunk with food, given its acidity, tannins, and alcohol. We don't think there is a hard and fast rule for drinking wine with food, you drink wine you like with food you like to eat, but Cabernet Sauvignon is definitely a wine that does better with food than without food, as by itself, it can be overwhelming.
This is a grape is fully expressed based on where it is planted, grown, and produced to a wine product. It shows ripe fruit character in warm New World climates as California, Washington, Chile, and Australia to place and tends to show riper fruit character from warmer New World wine regions like California, Washington, Chile, and Australia. California's Napa Valley has produced some very best Cabernet Sauvignon wines, often with higher alcohol levels and remarkable aging potential. In Old World regions, like Italy and France, Cabernet Sauvignon is most often blended to create outstanding Bordeaux's with the best blends consisting primarily of Cabernet Sauvignon, Merlot and Cab Franc.
Cabernet Savignon Profile
Cabs are essentially dry in style and range from medium-bodied to full-bodied. They are characterized by higher tannins, which provide complexity and structure and thus support the rich dark fruit characteristics. The most common aromatic and flavor components found in Cabernet Sauvignon are black cherry, blackberry, blueberry, plum, warm spice, vanilla, black pepper, and tobacco flavors.
Food Pairings
Cabernet Sauvignon, with its a significant level of tannins, is an optimal pairing for foods high in fat and protein. Red meat is an ideal pair for Cabernet Sauvignon. Everything from steak and burgers to prime rib and grilled game, hearty sausage dishes, lamb, and strong-flavored cheese are
an excellent choice with a Cabernet Sauvignon. From my perspective, essentially all Cabernet Sauvignon wines are an excellent choice for fine wine with an outstanding meal. Defining the best Cabernet Sauvignon wines can be difficult and really a matter of personal taste.
Please sign up for our email list below to get the latest information on our latest product descriptions, upcoming sales and special offers. We have some of the best offers in the business so please keep updated and have all questions answered in our COMMONWEALTH NEWS
Please review some of these selections of Cabernet Sauvignon from several premier wineries or explore our vast selections of fine wines, spirits accessories and gifts. Go Here for a complete selection.



Folie a Deux 2016 Cabernet Sauvignon Alexander Valley
Folie a Deux was produced into an exceptional Cabernet Savignon under new management in 2004 in the Alexander Valley. Alexander Valley is one of the premier regions in all of California for Cabernet Sauvignon. 2016 was a phenomenal vintage across California.
Cabernet Sauvignon is typically a late-ripening variety, warmer-than-average temperatures in spring and early summer prompted an early harvest. This Cabernet Sauvignon was subjected a reasonable incubation period giving rise to medium body and rich color producing a strong fruity flavor to die for! This wine was aged for 22 months in a combination of French, American and Hungarian oak barrels and was scored 92 by the Tasting Panel Magazine.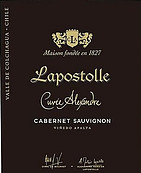 Lapostolle 2015 Cabernet Sauvignon, Cuvee Alexandre, Apalta Vyd., Colchagua
Valley
The Apalta Vineyard is the most noted of the Lapostolle estate in Chile's Colchagua Valley and the source for the fruit of Chile's great wines is produced. The Cuvee Alexandre Cabernet is produced here in this from this remarkable vineyard. The Cabernet grapes for this wine come from an old block of Cabernet planted in 1920 with high density that provides low yields of less than 2 tons per acre and grapes with strong and complex flavors with full-bodied flavors of blackcurrant and lavender with some mint soft tannins and hazelnut. James Suckling scored this 94 points.
Tenuta Polvaro 2016 Cabernet Sauvignon, IGP Veneto
Tenuta Polvaro in the Venzia DOC is an estate and winery located near the city of Venice. The facility has been modernized to be a state-of-the-art winemaking facility. The Cabernet grapes for this wine are hand-picked, pressed, then they undergo a crushing process for ten days in order to extract the colors, aromas, and tannins. This Cabernet is aged in two different styles: for eight to ten months, half of the wine rests in steel tanks while the other half resides in French oak barrels. After this period of separation, they are blended together then bottled. This Cabernet is a well-balanced elegance and has a deep ruby color and flavors of herbs and spices as well as blueberry and blackberry with hints of sweet licorice and
vanilla.
Far Niente 2017 Cabernet Sauvignon, Napa Valley
Far Niente Winery was actually established in 1885 by John Benson, a forty-niner of the California gold rush. The winery functioned and prospered through 1919 and the onset of prohibition before being closed and abandoned. In 1979 the winery was purchased and restored and is currently producing only two varietal wines Chardonnay and Cabernet Sauvignon.
This Far Niente 2017 Cabernet Sauvignon is a blend of 88.5% Cabernet Sauvignon, 6% Merlot, 3.5% Petit Verdot and 2% Cabernet Franc aged 16 months in 60% new French oak 60% barrels. This Cabernet demonstrates sumptuous aromas of cherry, blackberry, sweet anise and toasted oak as well as some hints of vanilla and chocolate with smooth tannins bringing a lush finish.

Austin Hope 2017 Cabernet Sauvignon, Paso Robles
Austin Hope Cabernet Sauvignon stems from an endless hard work and dedication to exceptional vineyard farming technologies developed in the diverse sub-regions of Paso Robles, where exceptional wines are being made. Austin Hope is the current matriarch of this historic family operation.
The 2017 Austin Hope Cabernet Sauvignon expresses aromas of black cherries, blueberries, with subtle notes of coffee, cocoa, and dried spices. The dark red color and supple tannins give rise to red fruit and blackberry with hints to black pepper, clove, and vanilla bean. The previous two vintages scored 97 and 96 respectively. We're sure this one will not disappoint.
Chateau Duhart Milon Rothschild 2009 Pauillac
The wines and vineyards properties of Chateau Duhart-Milon's were purchased in 1962 by the Rothschild family. The wineries and vineyard properties wines have been completely remodeled and improved exponentially. Chateau Duhart-Milon has thus been restored to its Medoc Classified Growth ranking. This Chateau Duhart Milon Rothschild 2009 Pauillac has considered one of it's best wines of all times. It is 63% Cabernet
Sauvignon and 37% Merlot with a score of 97 points. It is Viscous and full-bodied with a sweet flavor of crème de cassis, licorice, cedar, and subtle fruits. This fine wine is ready to drink now. Please try this experience.
Please follow and like us: