Best Cabernet Franc Wine
Cabernet Franc is a black-skinned French wine grape variety grown in most wine-producing nations. The variety is most famously known as one of the main wines of Bordeaux and can be found in many of the world's top Bordeaux Blend wines. It most commonly appears in blended red wines, where it adds accents of tobacco and dark spice.
Best Cabernet Franc wine shares many of the same phenolic and or aroma compounds as Cabernet Sauvignon but with differences. Cabernet Franc tends to be more lightly pigmented and produces wines with the same level of intensity and richness. Cabernet Franc tends to have a more pronounced perfume with notes of raspberries, blackcurrants, violets, and graphite. It is often characterized by a green influence that can range from leaves to green bell peppers. It has slightly fewer tannins than Cabernet Sauvignon and tends to produce a wine with a smoother mouth. New World examples of Cabernet Franc tend to emphasize the fruit more than the green notes.
Cabernet Franc Origin
The Best Cabernet Franc wine is thought to have originated as Libournais in Bordeaux sometime in the 17th century when Cardinal Richelieu transported cuttings of the vine to the Loire Valley. They were planted at the Abbey of Bourgueil under the care of an abbot named Breton. Within this sub-region are the prestigious villages of Pomerol and Saint-Émilion, which is where some of the most highly regarded Cabernet Franc wines originate. Examples include Cheval Blanc typically around two-thirds Cabernet Franc and Ausone which is an even split of Cabernet Franc and Merlot.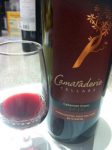 Cabernet Franc is commonly compared to Cabernet Sauvignon, which is not without justification. Along with Sauvignon Blanc, the former is a parent of the latter. Recent DNA profiling has also shown that Cabernet Franc is also one of Merlot's parents.
Cabernet Franc is very similar to Cabernet Sauvignon, but buds and ripens at least a week earlier. This trait allows the vine to thrive in slightly cooler climates than Cabernet Sauvignon, such as the Loire Valley. The vine is vigorous and upright, with dark-green, 5-lobed leaves. The winged bunches are elongated and small-medium in size. The berries are quite small and blue-black, with fairly thin skins. The Cabernet Franc grapevine is more prone to mutation than Cabernet Sauvignon, less so than Pinot noir.
The variety prefers cool, inland climates such as the Loire Valley. The appellations of Chinon in Touraine along with Saumur and Saumur-Champigny in Anjou are important bastions of varietal Cabernet Franc wines. The wines are prized for their aromas of ripe berry and sweet spices. Top examples can also be found in the Anjou Villages appellation, and in Bourgueil and Saint-Nicolas de Bourgueil en Touraine.
Throughout the world, Cabernet Franc is one of the twenty most widely planted grape varieties. Plantings are found throughout Europe, in the New World, China, and Kazakhstan.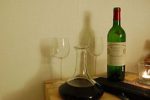 France
In France, Cabernet Franc is found predominantly in the Loire Valley and in the Libournais region of Bordeaux. As of 2000, it was the sixth most widely planted red grape variety in the country. By the early 20th century, there were nearly equal plantings of Cabernet Sauvignon and Cabernet Franc in Bordeaux with around 25,000 acres by the late 1960s. Towards the end of the 20th century, even though plantings of Cabernet Sauvignon had rapidly increased in Bordeaux to a 2 to 1 ratio in proportion to Cabernet Franc, plantings there were over 35,360 acres of the latter, nearly half of the country's total 88,900 acres.
Italy
By the year 2000, there were over 17,300 acres of Cabernet Franc in Italy. It is mostly planted in the far northeast of Italy, particularly in Friuli, but it is also found in the vineyards of the Veneto and is found as part of some Chianti blends, even as far south as Apulia. Plantings of Cabernet Franc in Tuscany have been increasing in recent years, particularly in the Bolgheri and Maremma region where the grape is prized for the balance and elegance that it brings to blends.
Hungary
Cabernet Franc in Hungary had gained attention by the end of the 1990s when in some wine-producing regions climate and growing conditions proved to be not optimal for Cabernet Sauvignon to reach its full ripeness. Successful varietal examples from Villány and Szekszárd show great potential. Hungarian varietal Cabernet Franc is a typically full-bodied, moderately, or highly tannic wine with rich aromas of spices, blue flowers, and red/blackberry fruits with a reasonably good aging potential of about 10 years. These wines typically undergo 12 to 18 months of aging in new Hungarian oak barrels.
Cabernet Franc is also present in Eger, and in South Balaton and Sopron vineyards, to a lesser extent. Cabernet Franc often complements Bordeaux-style blends from these regions and occasionally plays a role in rosé production.
Outside France and Italy, sizable plantings of Cabernet Franc are found in Spain, Greece, Bulgaria, Slovenia, and Croatia.
Canada
Cabernet Franc is becoming more popular in Canada, being planted in Ontario's Niagara Peninsula, Prince Edward County, the north shore of Lake Erie, Pelee Island, and the Okanagan Valley in British Columbia. While it is most often used in blends, it is gaining some popularity as a single varietal and as ice wine. Cabernet Franc Ripen about two weeks earlier than Cabernet Sauvignon and fares better in Canada's cooler climate than other red wine grape varieties. Ontario Cabernet Francs often add a characteristic raspberry-like flavor to wine with moderate acidity.
USA
Cabernet Franc became popular in California with those who wanted to develop a Bordeaux in this country. This interest in Cabernet Franc led to an increase in plantings that helped push the total acreage of Cabernet Franc in California to 3,400 acres, most of which is in Napa and Sonoma counties. In 1986, Casa Nuestra Winery in Napa Valley initiated the first Cabernet Franc program in the United States, winning a Double Gold and Best of Class Medal in the Los Angeles Times Wine Competition for their first vintage.
In Washington State, the first plantings of Cabernet Franc were cultivated in experimental blocks by Washington State University in the Columbia Valley during the 1970s. In 1985, Cabernet Franc was planted in the Red Willow Vineyard for use in Bordeaux style blends. The first varietal Cabernet Franc in Washington was released in 1991 by Columbia Winery followed by Chateau Ste Michelle in 1992 with grapes planted from their Cold Creek Vineyard.
Argentina
Cabernet Franc plantings in Argentina have been producing top quality wines in recent years, and the varietal has been claimed as having the most potential in the country after Malbec.
Cabernet Franc and Exciting Food Pairing
Meat
Roasted Pork
Beef Burgers
Meatballs in Tomato Sauce
Chicken Tomato Curry
Turkey with Cranberry
Wild Game Hens
Lamb Gyros
Cheese
Goat Cheese
Ravioli
Camembert
Feta
Fontina
Cheese and Spinach Quiche
Herb/Spice
Oregano
Thyme
Rosemary
Sage
Savory
Chervil
Jalapeño Pepper
Coriander
Aleppo Pepper
Red Pepper Flakes
Black Pepper
Vegetable
Black Lentil
Red Bean
Pinto Bean
Roasted Red Pepper
Mushroom
Tomato
Eggplant
Leeks
Spinach
Sunchokes
Arugula
Please sign up for our email list below to get the latest information on our latest product descriptions, upcoming sales and special offers. We have some of the best offers in the business so please keep updated and have all questions answered in our COMMONWEALTH NEWS
PLEASE CHECK OUT AND ORDER FROM OUR SELECTIONS BELOW OF CABERNET FRANC WINES OR GOTO OUR MAIN WEBSITE FOR A COMPLETE SHOWCASE OF WINE AND SPIRITS
Red Newt Cellars Cabernet Franc Finger Lakes 2016
Jarvis Estate Cabernet Franc Napa Valley 2013
Onabay Cot Fermented Cabernet Franc 2016
Laroque Cabernet Franc Cite de Carcassonne 2017
Domaine Charles Joguet Chinon Les Petites Roches 2016
Garzon Cabernet Franc Uruguay Reserve 2015
Waterkloof Circumstance Cabernet Franc Stellenbosch 2015
Lang and Reed Cabernet Franc North Coast 2014
Alexander Valley Vineyards Estate Cabernet Franc Alexander Valley
Please follow and like us: