Best Pinot Noir Wines
Pinot Noir originated in the Burgundy region of France where the best Pinot Noir wines are still produced. Pinot Noir is, without a doubt, the most renowned red wine in the world. Pinot Noir is Burgundy's most famous noble grape. Known and loved as "Red Burgundy" in much of the world, Pinot Noir is among the most elegant wines to come out of France. Pinot Noir is a red wine that is typically light to medium-bodied and fruit-forward. Originating from Burgundy, it holds a pleasant spot in the red-wine spectrum—not too dry, but not sweet. This is why it's a favorite throughout the wine-drinking world.  Today, Pinot Noir grapes are planted in regions around the world, including Oregon, California, New Zealand, Australia, Chile, France, Spain, Germany, and Italy.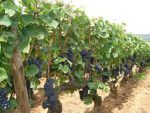 Pinot Noir is very popular and highly regarded around the world. Some of this popularity and the somewhat higher price tag may be due to the difficulty associated with cultivating the grape and transforming this product into wine. The grape's tendency to produce tightly packed clusters makes it susceptible to several viticultural problems involving rot that require persistent management. The leaves of pinot noir are generally smaller than those of Cabernet Sauvignon or Syrah. The pinot vine is typically less vigorous and viable than either of these varieties. The grape cluster is small shaped like a pine cone. In the vineyard Pinot noir is sensitive to wind and frost, soil types and pruning techniques. The yield remains low to maintain the highest quality wine. Yeast strains from the variety of growing regions can produce markedly different wine characteristics. Its thin skin makes it susceptible to bunch rot and similar fungal diseases. The vines themselves are susceptible to powdery mildew, especially in Burgundy infection by leaf roll and fanleaf viruses cause significant vine health problems. These complications have given the grape a reputation for being difficult to grow. The thin skins and low levels of phenolic compounds lead to producing mostly low tannin medium-bodied and lightly colored wines. These wines are thus not necessarily good candidates for long term aging. Due to this variety of complications associated with growing Pinot Noir is produced in much smaller quantities than most other red wines which result in the customer paying a little more for a rare Pinot Noir, but very much worth every sip. Please let me know about your favorite Pinot Noir.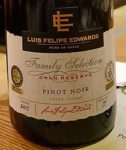 These are several producers in the $10 range that are worth checking out. Mark West, Robert Mondavi Private Selection, Cupcake, and Mirrasou are among the best budget Pinots.
For more expensive options of the Best Pinot Noir wines, look for bottles from Domaine Faiveley of Burgundy or Craggy Range of New Zealand. As for American producers, you'll love the Pinot Noir from greats like California's Gary Farrell, Emeritus, and La Follette. Oregon has some top-ranking wines as well, from wineries like King Estate and Stoller.
There are many other key producers to look for. Within the Napa Valley, look to Bouchaine, Domaine Carneros, Etude, or Saintsbury. For Sonoma County wines of J Vineyards and Sebastiani or the Russian River Valley gem of MacMurray. Other California greats can be found from Cambria, Calera, David Family, and ForeFront by Pine Ridge. Oregon has many equally impressive Pinots.
Food Pairings
Pinot Noir offers a red-wine palate profile in a white-wine style providing a lighter-bodied fare, Pinots give it a step up for both red wine and white wine drinkers. Pinot Noir is well-suited to pair with a wide variety of traditional dishes, ethnic dishes, and classic cuisines. This versatility is due in large part to its consistent acidity, subtle and silky tannins, and lighter-bodied style. Pinot Noir pairings include beef, pork and poultry, cheese and chocolate, fish, lamb, mushrooms, fresh herbs, and wild game. Pinot Noir plays well with spicy seasonings as well as creamy sauces.
Please sign up for our email list below to get the latest information on our latest product descriptions, upcoming sales and special offers. We have some of the best offers in the business so please keep updated and have all questions answered in our COMMONWEALTH NEWS
Please try some of our fine Pinot Noir selections below or go to our

main site

for a complete listing of our

fine beverages
Louis
Latour 1996 Domaine Latour Aloxe-Corton (Burgundy)
Concentrated black-cherry nose and very floral. Full, tannic, powerful Pinot Noir fruit; a classic '96. Needs years, but lovely fruit lies under the structure. Hold this one while drinking the '95 and '97. (The "Domaine Latour" on the label means the grapes came from Latour's home vineyard in Aloxe-Corton, where the Latour family resides.)
Designation
Domaine Latour Aloxe-Corton
Variety
Pinot Noir
Appellation
Burgundy, Burgundy, France

Ancien
2016 Toyon Farm Pinot Noir (Carneros)
This wine has a beautiful bouquet of smoky cherry, forest floor and tea aromas that follow through to the medium-bodied palate. A jolt of orange peel helps to highlight the lifted, integrated acidity that wraps around the robust body. 94 Points
Designation
Toyon Farm
Variety
Pinot Noir
Appellation
Carneros, Napa-Sonoma, California, US

Sojourn 2016 Gap's Crown Vineyard Pinot Noir (Sonoma Coast)
Brawny yet bright in tangy orange peel, cranberry and strawberry, this well-made wine from a well-known and coveted site is impressive in its breadth and complexity. With thirst-quenching acidity it fills the palate with fruit, spice and oak in equal measure. 94 Points
Designation
Gap's Crown Vineyard
Variety
Pinot Noir
Appellation
Sonoma Coast, Sonoma, California, US
Joseph Phelps 2016 Quarter Moon Vineyard Estate Grown Pinot Noir (Sonoma
Coast)
Structured and lively in fresh acidity, this is an impressive wine from an impressive vintage, made from grapes grown in the foggy wilds of Freestone. Broad, baked fruit flavors of pomegranate, strawberry and orange peel give it additional brightness and length, complex within a soft-balanced frame of underlying delicacy. 94 Points
Designation
Quarter Moon Vineyard Estate Grown
Variety
Pinot Noir
Appellation
Sonoma Coast, Sonoma, California, US

Dutton Estate 2016 La Familia Dutton Ranch Pinot Noir (Russian River Valley)
Earthy in exotic plum, apple skin, rose and lavender, this wine has pretty aromatics and a lasting complexity of forest and cardamom. Medium-bodied and balanced in approach, it's lean and focused, with a lingering note of dried herb. 91 Points
Designation
La Familia Dutton Ranch
Variety
Pinot Noir
Appellation
Russian River Valley, Sonoma, California, US
Please follow and like us: