Rare Bourbon Whiskey
There is nothing quite like a fine glass bourbon whiskey set out as a straight shot, on the rocks or with a savory-sweet or sour mix. The fine or rare bourbon should not be consumed as an indiscriminate shot, but a smooth sipping experience savoring the elegant warmth and pleasure. A fine bourbon initially enhances the senses of the nose with a delectable scent and follows to the palate leaving a delicate and refined warm feeling.
This says that bourbon is a journey that is worth exploring to an in-depth level. Bourbon has come a long way and has been passed through many judgments, testing, for many decades before reaching its ultimate level of product maturity. The maturity of bourbon is a cherished characteristic that has been relished through the years and bourbon is in no hurry to rush this process. Therefore, sit back and enjoy a fine glass of bourbon. Let me know your favorite bourbon.
However, do we have a clear definition of what is bourbon and what is whiskey? Is bourbon the same as whiskey? The true definition is that all bourbon is whiskey, but not all whiskey is bourbon.
The Federal Standards of Identity for Distilled Spirits has passed a decree in 1964 defining bourbon: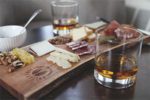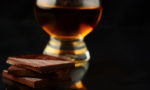 BOURBON
Host a grain bill that's at least 51% corn.
Must be produced at no more than 160 proof (80% ABV).
Needs to be stored in new charred oak barrels for at least four years at no more than 125 proof (62.5 % ABV).
Must be bottled at a minimum of 80 proof (40% ABV).
Required to be made in the United States.
These are Federal guidelines the bourbon distillers must follow to use the designation of Bourbon. Strong advocates of Bourbon believe this spirit is required to be distilled and bottled in Bourbon County, KY and utilize exclusively Kentucky limestone water. However, other rules have come into play in recent years requiring that bourbon cannot be artificially flavored or enhanced with coloring. For this reason, Jack Daniels is labeled as a Tennessee whiskey and not a proper bourbon.
These are the rules by which all bourbon distillers must adhere. Any deviation from the previously mentioned imperatives results in a spirit that shall not be labeled as bourbon. We've also seen more specific rules come into play over the years as well. Namely, that bourbon cannot be artificially flavored or enhanced with coloring. This was a key reason why Jack Daniels is labeled as a Tennessee whiskey and not a proper bourbon. Also, some bourbon devotees suggest if the spirit doesn't come from Bourbon County, KY and utilize Kentucky limestone water in the distilling process then it isn't bourbon. The federal government doesn't recognize such strict sanctions so we'll leave those ideas to float in the realm of subjectivity. One of the most important things to understand is where your bourbon originates as in who is the actual distiller/bottler of the product. There are also a variety of different variants to consider in your bourbon choice.
Straight Bourbon Whiskey:
Bourbon that's stored in new charred oak barrels for at least two years. These can also include blends of other straight bourbons as well as each batch comes from the same distilleries within the state.
Sour Mash:
An industry technique that pulls mash from previous distillations into the new mash. This prevents unwanted yeast strains from infecting the new batch.
Proof:
A number used to reference the amount of alcohol present in the whiskey. Found by doubling the ABV percentage.
Bottled In Bond:
A federal regulation that mandates bourbon must be the product of a single distillation by a single distiller at a single distillery. The whiskey must then be stored at a federally-bonded warehouse for at least four years in new charred oak barrels and bottled at 100 proof (50% ABV). The label must also identify the distillation location.
Small Batch:
A term used to specify the bourbon was made by an exclusive number of barrels and/or recipes in a blended bottling.
Non-Distiller Producers:
These are the companies that purchase the whiskey from actual distillers and blend accordingly for individual branding.
Single Barrel:
As the name might suggest, single barrel bourbons are aged using single barrels that work to impart a greater range of variations in nose,
palate, and finish. In 2007 Congress declared the month of September as our nation's National Bourbon Heritage Month. This is suggesting there is a revitalization of this spirit in the hearts and minds of bourbon connoisseurs throughout the world. Many to the very obscure selections are now becoming very well-known to the bourbon aficionados. Many of these fine and rare bourbon selections are shown here to entice your palate.
Please sign up for our email list below to get the latest information on our latest product descriptions, upcoming sales and special offers. We have some of the best offers in the business so please keep updated and have all questions answered in our COMMONWEALTH NEWS
Please make a selection from these rare and fine bourbons below or go to our MAIN SITE  to view all our collection of FINE WINE AND SPIRITS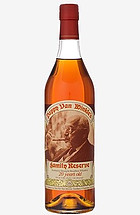 Pappy Van Winkle Family Reserve 20 Year
Pappy Van Winkle 20 year is the spirit that every true bourbon drinker should enjoy. This bourbon is quite expensive due to significantly increased demand in recent years but it is considered well worth it for a very fine and rare bourbon. Please provide a review here if you have the opportunity sample this fine spirit.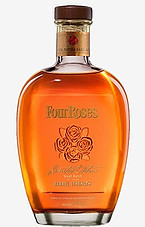 Four Roses
Four Roses is an exceptionally fine and rare bourbon. The obvious flavors include aromas of allspice, vanilla and fruit, a palate of bright raspberry, cherry, and light oak, and finishing notes that are rich with brown sugar and something of cinnamon.
Elijah Craig 18 Year
This 18-year vintage is very special in that it is a single barrel straight bourbon whiskey coming from one barrel, making it the source of some of the oldest bourbon barrels in the state of Kentucky. The aromas hint of aged oak, chocolate and mint including notes of honey, vanilla and pepper. Enjoy it neat or on the rock.
Angel's Envy Cask Strength
Angel's Envy is an outstanding whiskey, Angel's Envy Cask Strength was at one time ranked the "Best Spirit in the World" by Spirit Journal. It currently remains one of top premier rare whiskeys available. Finished in port barrels with fewer than 8000 to 9000 bottles released each year this 124.6 proof cask strength bourbon is unique among fine bourbon whiskeys. Angel's Envy conveys unusual offerings with hints of clove, peppercorns, fruitcake, and roses. Each sip also reveals a flavors unlike any other selections with notes caramel coffee and dried figs.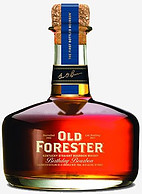 Old Forester Birthday Bourbon 2018
Old Forester releases a special batch of birthday bourbon each year for everyone's pleasure. The 2018 batch year was selected and
drawn from numerous 12-year-old barrels that when combined, yielded a very fine and rare bourbon experience. This rich bourbon has subtle
flavors with hints of citrus fruit, chocolate, caramel, and cinnamon with a spicy sweetness and citrus peel.
Please follow and like us: